Back to the overview
From a "stupid" gearbox to an "intelligent" drive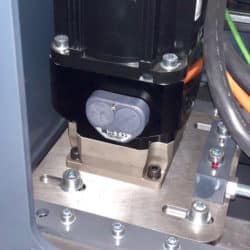 When do I have to replace a gearbox?
Many customers replace a gearbox after a certain number of production hours. Upon inspection, the gearbox then appears to show no wear or damage. However, the gearbox retires to prevent expensive downtime. With a smart sensor from iQunet, it is possible to monitor the gearboxes in real time and only replace them when there is an actual indication. This increases the service life/number of production hours of the gearbox and prevents unexpected maintenance work (predictive maintenance). This fits in perfectly with the current IIoT digitization (IIoT = Industrial Internet of Things).
Preventive maintenance of a gearbox
Preventive maintenance is the maintenance that is carried out pro-actively on production plants, installations and machines, often with the following reasons:

increase the reliability of the production plant, the installation or the machine
prevention of damage, failure, defects and inconvenience at a later moment
maximizing the Mean time between failures (MTBF)
The cost-assessment is an increasingly important concept and therefore also strongly determines the choice with regard to maintenance. In combination with a risk inventory, historical data and legal provisions (for example, mandatory annual check / inspection), decisions are made about the manner of maintenance to be performed. Preventive maintenance is usually expensive but saves a lot of money in relation to downtime.
Various Apex Dynamics customers therefore replace the low-backlash gearboxes after a certain number of production hours and request an inspection of the gearbox. In almost all cases our verdict is "we see that it has been used, but we cannot yet detect wear or damage". However, the gearbox is no longer used and removed as a precaution. But the gearbox could last for many more production hours.

Remote drive monitoring
It would be nice if the gearbox can be remotely monitored for vibrations and temperature, so that you can proceed to control and action in the event of a deviation. This way you can actively prevent a malfunction. Via this monitoring you can simultaneously follow the behaviour of the servo motor, a loose encoder or a faltering brake will also be visible via the sensor. This way you can turn a "stupid" gearbox into an "intelligent" drive!
The gearboxes from Apex Dynamics can be equipped with a wireless sensor from iQunet from Hamme, Belgium. This measures physical parameters such as vibrations, temperature, proximity, rotation, humidity and slope and transmits these wirelessly to a base station or repeater. This is a major breakthrough in battery-powered wireless sensors and network technology to manage assets in industry and buildings.
And the best thing is:
the sensor can easily be installed in existing situations without stopping or expensive conversion.
iQunet sensors
The features of this system:
Intelligent sensors with a microcontroller on board
Extremely low power consumption resulting in a very long lifetime (about 5 years) of the replaceable batteries
The sensor is activated as soon as batteries are inserted
Network with 99.9% end-to-end reliability
Network communication is protected by industry standard authentication and encryption
Wireless sensor dashboard for 'live' data
According to iQunet, the sensors of iQunet offer various advantages such as:
Lower costs thanks to the simple system that allows powerful asset health monitoring
Increased efficiency through the follow-up of status trends
Increased productivity through automatically generated usage data
Improved customer service through condition-based maintenance planning
Increased competitiveness through remote access and diagnostics.
For more information, go to the IQunet website or contact Apex Dynamics for the gearboxes.