Back to the overview
Gearboxes Apex Dynamics positioning axles Volvo trucks
Cofely Fabricom had previously assisted with the pre-assembly plant for the axles at Volvo Trucks, Gent. The truck manufacturer asked the Belgian company to repeat this trick in their Swedish factory. That was only possible with input from Apex Dynamics which could meet the required extra gearbox requirements fast.
Cofely Fabricom, Belgium
Cofely Fabricom, established in Belgium, is active in the field of technical installations and supports the entire value chain. For the Volvo plant in Ghent, the company built an installation for the pre-assembly of truck axles. Volvo was so charmed by the solution it asked Cofely again to build a similar system for their Swedish Volvo factory. But this seemed to be just a little more complex.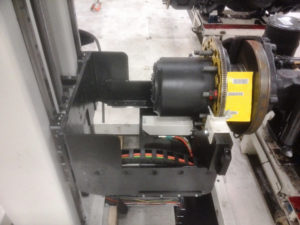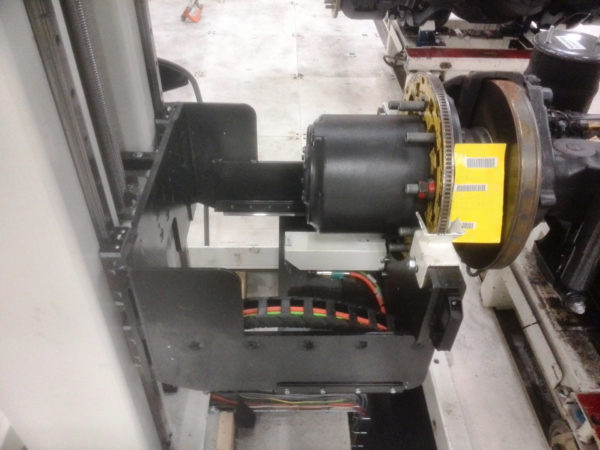 "Equal to the plant in Gent for this pre-assembly installation the truck axle has to be lifted and turned," Rudi Husquet explains. He works at Cofely Fabricom as section manager for the region Flanders for the Mechanical applications. "Everything seemed the same, until it appeared that Volvo in Sweden is building a slightly different type of truck that uses a different type shaft. This axle is assembled only a few times a week but the system must be able to deal with it well. Unfortunately, this shaft has a very high unit weight of 1300 kg so that the equipment used in Ghent could not achieve the complete rotation. We had to find a gearbox that could deliver higher performance. "
That should not be too great a task, thought Husquet, but by the very limited frame size it was very difficult to find a replacement gearbox who could deliver the desired performance. Also the requested delivery time was problematic. "Only a gearbox of Apex Dynamics could perform this requirement and be placed inside this system," says Husquet. "And perhaps even more important, Apex could deliver very fast. Essential for this challenge, because it delayed the completion of this project. "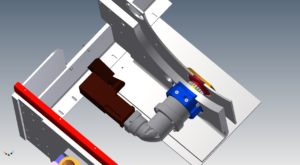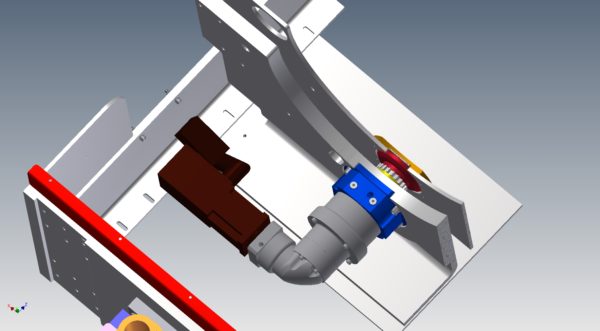 In the installation, in which two flanking fixtures are positioning the axes, two right-angle gearboxes are mounted in order to rotate the axles. The whole is driven by servo motors with an output torque of 3 Nm and adjusted to provide up to 1.5 Nm. In the list of demands was also specified that the gearbox needed a high power density to have a very compact design and with a rated torque of 150 Nm, sufficient reserves. It had to be a high efficiency transmission with a helical gear to minimize noise for assembly workers. The parties chose the Apex Dynamics AER090-120 with a ratio of 120 : 1 and a maximum torque of 360 Nm. Due to its design, the gearbox fitted naturally into the fixture.
Cooperation with Apex Dynamics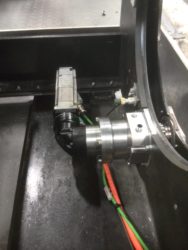 About the cooperation with Apex Dynamics, Husquet says: "That was simply very good. Apex could immediately respond and act on questions and working with us to resolve the problem. They did a good proposal and then kept their word. The delivery time of the gearboxes was very short and the products fulfilled all the requirements. Actually we got in contact very late with Apex Dynamics. If we would have asked them sooner, we wouldn't have any delay to deliver the project. "
Thom van Oss, director of Apex Dynamics BV : "with our slogan 'Apex Dynamics runs faster' we are clear about what distinguishes us in the market. For us to provide service and respond quickly to requests from our customers and partners is essential. Our customers must be able to count on us and that often means the same day answers to questions, to come up with proposals quickly and also rapidly provide the product. We can supply nearly every product within two weeks from stock. Sometimes other suppliers need that long only to send a quotation!
Article from Mechatronica&Machinebouw, December 2015
With thanks toRudy Husquet (Section Manager, Cofely Fabricom) and Alexander Pil (Editor in chief Mechatronica&Machinebouw, Techwatch)