Back to the overview
Industrial sewing machine with our rack end gearbox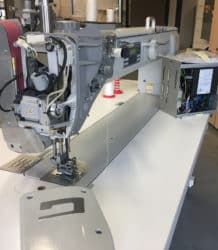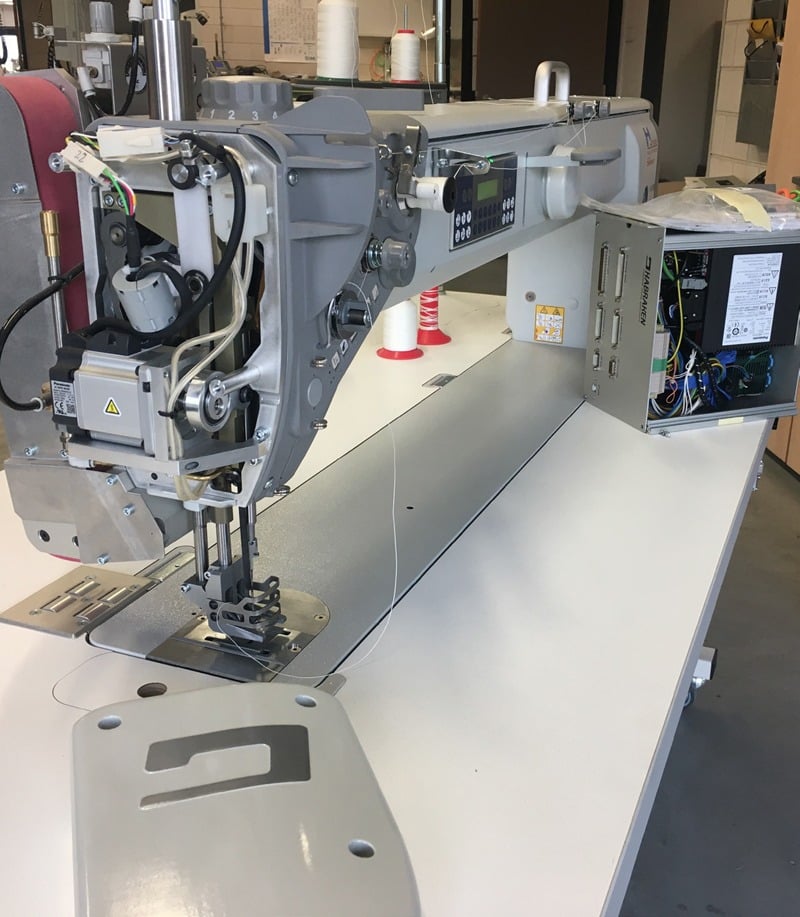 Habraken's industrial sewing machines travel all over the world from Kaatsheuvel, the Netherlands. Applications vary and customer requirements become uniquely specific rather quickly. This also applies to a machine for stitching cinema screens of over 15.5 meters in length. Habraken sat down with Apex Dynamics and Panasonic Industry to come up with a tailor-made machine in short time.

Much is nowadays fully automated. So you would think this also applies to the industrial sewing machine. It was more than a century and a half ago that it came on the market as one of the first mass-produced machines. However, not much has changed since then. It gives the sewing machine something imperturbable, although it says a lot about the technology itself. This requires specific control by the operator, making it simply to early for full automation, according to John de Rooij. He is convinced that robotization is also coming to industrial sewing machines. "But then the machine has to adapt to the robot. That seems to me the upside-down world."
Such a trusted technique as that of an industrial sewing machine. So stable and so obvious. John talks enthusiastically, as manager of the Habraken R&D department, a company that imports, modifies and distributes industrial sewing machines. It is specialist work, with customer questions that vary considerably. For example, from Habrakens' premises in Kaatsheuvel, the machines go to the automotive industry, which uses the machines to cover car seats. Sailmakers also rely on Habrakens' expertise, as do manufacturers of ready-to-wear clothes and sun screens.
Ultimately, the industrial sewing machine is at the basis of countless end products, says John. To pioneer with that, to discover further applications: John and his colleagues are given plenty of possibilities at Habraken. And believe him, that's more than just beautiful. "The technology in our machines; I find it super fascinating. "
More than just delivering
At Habraken, they do a lot themselves, from engineering and assembly to programming their own software. And when it comes to the control of the machines? Then there is a partner such as Panasonic Industry, with whom Habraken has been working for many years. John, who has been working at the company in Kaatsheuvel for about twenty years, is very please with this collaboration. "Panasonic is more than just a supplier to us. When we are investigating opportunities for new applications, I like to involve Panasonic. Their team is involved, takes our questions seriously and thinks along with us. Does an application appear possible only later on? Then Panasonic will still inform us about it. The effort to work out things for us, to share knowledge, that's highly appreciated."
With the questions of a specialist such as Habraken, a solution is not always obvious, says Roel Lommers, key account manager Projects & Support at Panasonic Industry. "But that is not a problem, on the contrary. It is precisely thanks to these unusual questions that we learn to learn from each other, we keep each other sharp."
Inertia has an impact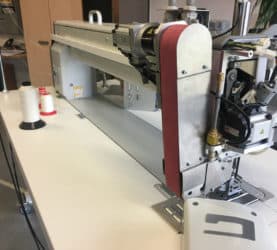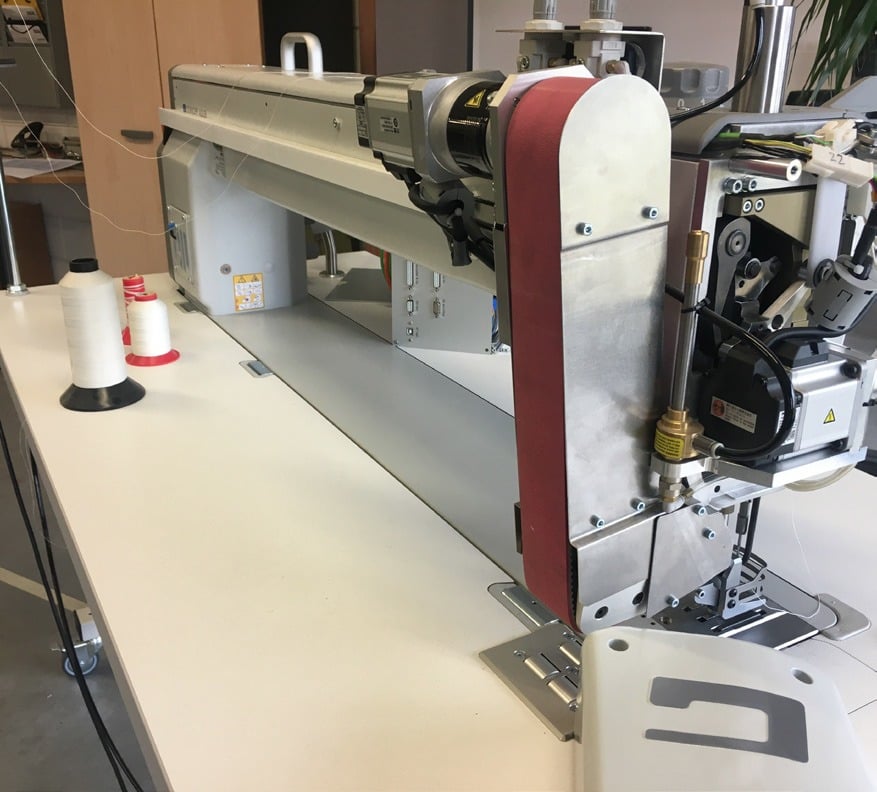 The versatility of an industrial sewing machine became apparent at the end of last year. Stitching cinema screens, that's what Habrakens customer asked for. And that over a distance of 15.5 meters, whereby the machine had to move along the table at the same speed as the fabric is stitched. John: "A special assignment for us, mainly because of the mass inertia. It would of course have an impact if the machine suddenly came to a standstill."
John asked his question for the correct control at Panasonic Industry, which asked on their turn Apex Dynamics from Helmond for advice on the choice of rack and gearbox. Together, the partners came up with a solution that besides a PLC and HMI consists of a servo motor and drive combination with one specific feature. Roel: "The drive has an auto-tune function, which senses the behavior of the machine for aspects such as stiffness and positioning. By collecting data over a longer period of time, the function ensures the correct parameters in the drive."
From drawing to technique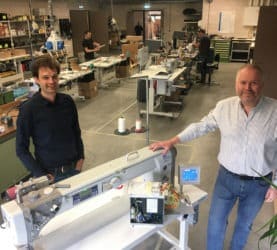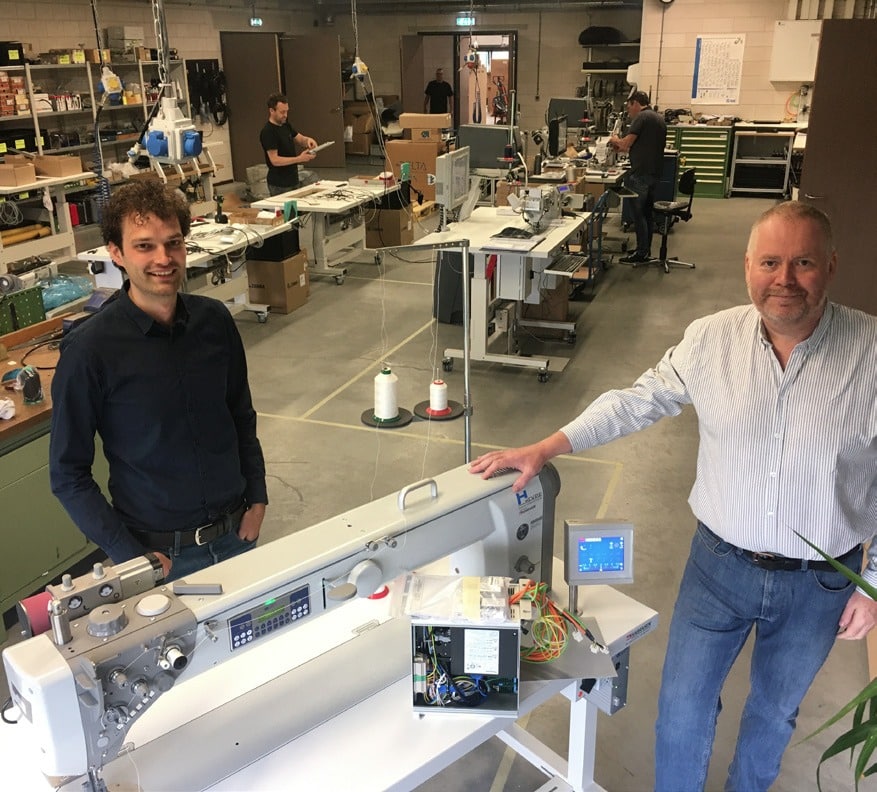 A PLC, HMI and servo motor: that sounds like an obvious control solution, Roel realizes. "But which versions do you choose? How do you translate the first drawing into the final technique? The process of making those choices and getting the solution running was the challenge. I think that we did well with Habraken and Apex, especially considering the relatively short time of six weeks."
Just like Roel, John is also satisfied with the machine. "It works well, our customer is enthusiastic about it. And that is certainly also due to the rapid course of the process, in which Panasonic also helped us with the control technology, including HMI training and programming the machine.
This is typical our broad collaboration with Panasonic and their partners, which also helps us to fill in our supply chain. It is precisely such a cooperation in a broad sense: it is very valuable to our company. "

Habraken B.V. | INNOVATE TO GROW | The right industrial sewing machine, time after time. Habraken has built up a solid name with technology for every application, with customers worldwide. The company supplies machines from well-known brands from a modern office building in Kaatsheuvel, is the exclusive importer of Dürkopp Adler machines for the Benelux and also serves the market with its own brand HM. Habraken is a family company, has a smaller branch in Belgium in addition to the location in Kaatsheuvel and currently has around 25 employees. With its own R&D department, Habraken considers innovation as key importance, as a solid basis for the intended growth in the coming years.

Panasonic Electric Works Sales Western Europe B.V. | Located in Best, supplies components such as switches, connectors and solid state relays. In addition, the product portfolio also includes sensors, PLCs, servo motors and laser marking systems. The European headquarters in Ottobrunn (Germany) collaborates with European customers on the development of our products in various branches such as the automotive industry, electric mobility, factory and building automation, innovative energy and environmental management.
Source: Whitepaper Panasonic Electric Works Sales Western Europe B.V.