Back to the overview
Cooperation – "If you know each other well, you grant each other something"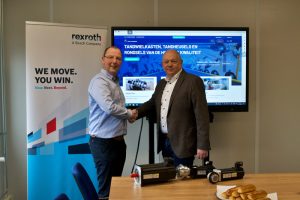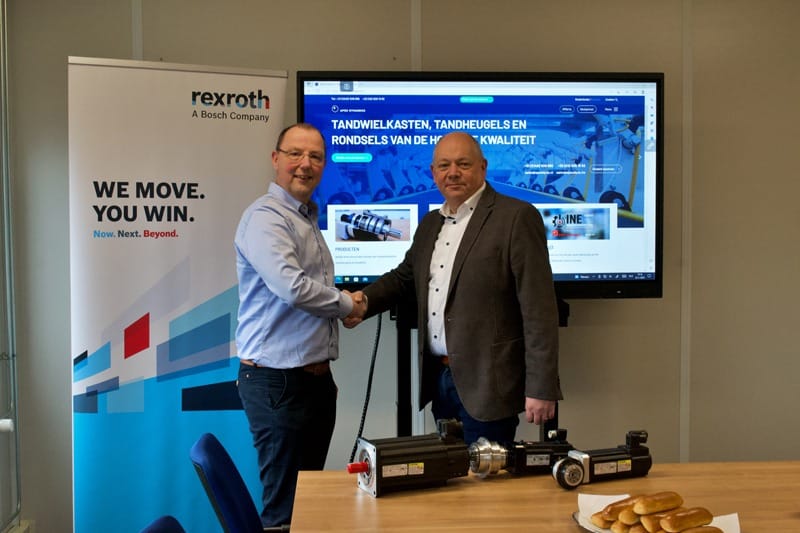 Bosch Rexroth had nominated its supplier Apex Dynamics for the 2022 DISCA award. A global player in drive technology that puts the manufacturer of relatively modest (but crucial) parts on a pedestal? That requires further explanation. "If there is a problem, we solve it together."

Author: Alexander Pil, Source: Link Magazine, Article: in pdf
"Of course we work closely with our customers," says Arjan Coppens, managing director of Bosch Rexroth in Boxtel. "But we also enter into the same relationship with our suppliers. And that's not always about win-win. It's much more about openness, knowing each other and giving each other something. You don't just choose a supplier because he always delivers on time or because he has the lowest price. Of course that is important too, but above all it has to click. At Rexroth, we really like the way Apex Dynamics works. We regularly send customers directly to Apex, because that is the best solution."
For Apex Dynamics, the collaboration with Bosch Rexroth is very strategic. When Thom van Oss started in 2008 with the Dutch representation of the Taiwanese specialist in gearboxes, he immediately started looking for these types of strategic partners. "We only supply a small component in a drive train," says Van Oss modestly. "So we realized that it was impossible to go to all the machine builders in the Benelux to sell our products there. That is why we immediately sought the connection with manufacturers and suppliers of servo motors. Because in 95 percent of the cases our products are mounted to a servo motor."
Complete solution
The link with Bosch Rexroth was quickly established. "I knew a few people there from the past, so I went for a cup of coffee," says Van Oss. Although Rexroth has a number of gearboxes in their program, Apex Dynamics' portfolio is much more extensive. Coppens: "We only had larger gearboxes in our range, and they were less accurate. Customers increasingly asked us for a total solution, which we could not deliver because the right gearbox was missing. So for us, Apex's question came at exactly the right time.'
The link was also ideal for Apex Dynamics. What is the most difficult part of the sales process? Entering the customer's door,' Van Oss answers his own question. "It was much easier for Rexroth sales engineers than for Apex Dynamics, which was a completely new name in the market at the time. So let the Rexroth sales engineers talk for ten minutes longer about the gearbox and they can provide a complete solution. That's better for everyone. Rexroth was one of the first who recognized the added value of this."
Apex Dynamics and Bosch Rexroth do not have an official contract. "Of course we have made agreements about delivery and payment terms, but it is a collaboration. If you do what you promise, and it goes in a pleasant way, then a piece of paper in the drawer is completely irrelevant,' says Van Oss.
Something extra's
The cooperation also offers added value for the customers of Apex Dynamics and Rexroth. "And that's not just because they get the parts delivered at the same time. It gets really interesting when we deliver sub-assemblies,' says Coppens. Van Oss adds: 'Here in Helmond we can assemble the motors and gearboxes together, often on behalf of Rexroth. That collaboration has certainly paid off, because Rexroth can offer something extra, with our full range of gearboxes and now also racks and pinions.
Apex Dynamics remains the specialist in gearboxes in this story. "It would be strange if Rexroth itself answered the customer questions about our components," says Van Oss. 'Of course they know quite a bit about it by now, but they naturally call us in for very specific questions.'
Really working together
Representatives of the two companies also visit customers jointly on a regular basis. 'We both have the approach that if something went wrong, we solve it together; everyone then takes their responsibility,' says Coppens. Pointing at each other is therefore not an option. Van Oss: 'It's nice that the people of Rexroth in Boxtel think further then only the one gear that is broken. Because the cause of a malfunction may lie elsewhere. Perhaps the load is too great, or the motor is too heavy."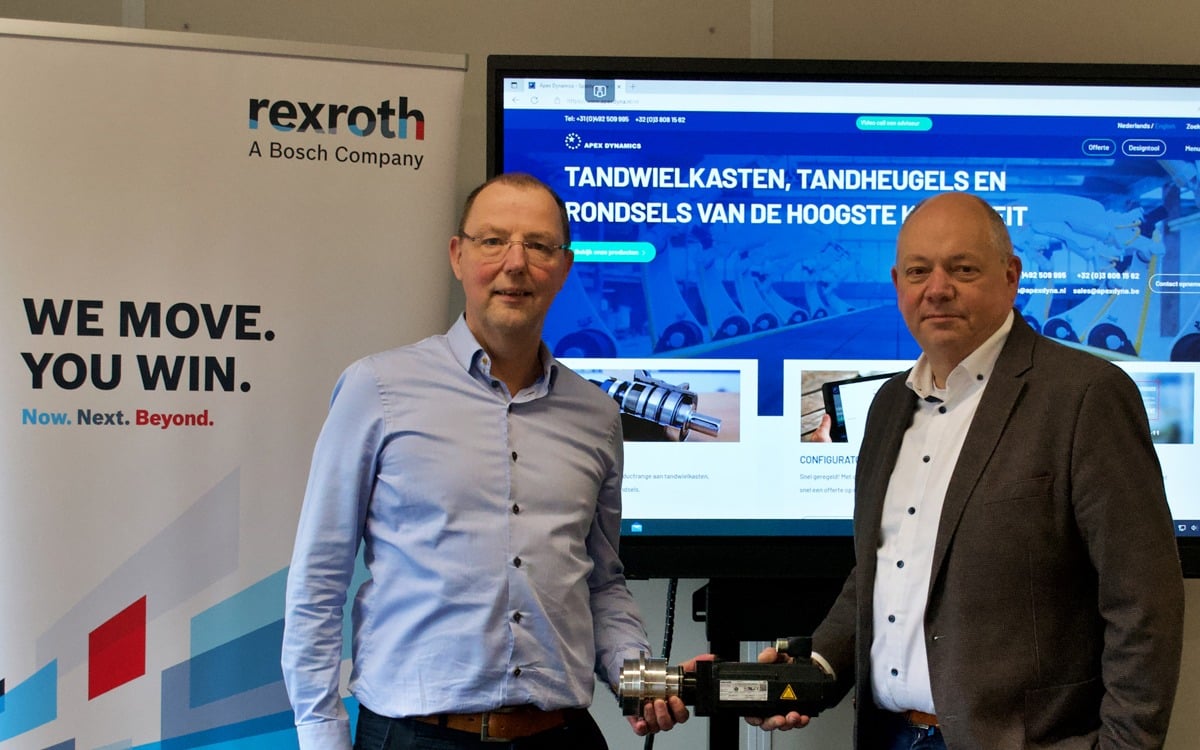 Van Oss remembers an application where the gearboxes kept failing. "When we got them back, we couldn't explain what goes wrong in the gearbox," he says. Further investigation at Bosch Rexroth in Germany showed that there was a small misalignment in the combination of the two parts that caused the gearbox to go wrong. "Together we solved that for the customer," says Van Oss.
Customer-oriented, but not customer-yielded, is how Van Oss describes dealing with the market. "We are honest, both Apex Dynamics and Bosch Rexroth. If something cannot be done, it can't be done, and we will say so. Or if there are problems with the delivery time, we will look for an alternative. And if that means it's a different brand of gearbox, or a servo motor from a different manufacturer, then so be it. Always in consultation and as long as the customer is helped and satisfied with that.
Lunch & Learn: coffee and worstenbroodjes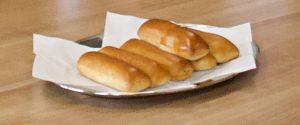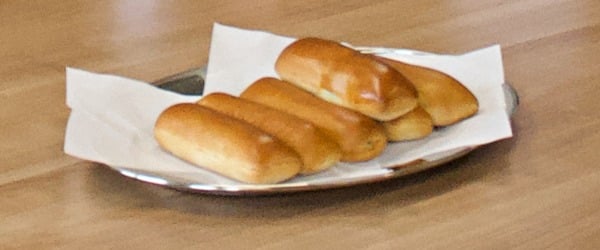 Both hurry to say that it almost never goes wrong, but they also admit that it is precisely at such moments that the strength of cooperation is underlined. 'Only then do you really get to know each other,' says Coppens, who thinks there is a bit more to it. "It's also about open communication and a personal approach."
Van Oss: 'Not only product knowledge, but also knowing the people. Who can you contact for what?' Many of those contacts are maintained during product training. We call it lunch and learn. Then Arjan will provide the coffee and I will provide the "worstenbroodjes". We discuss applications from the field, transfer knowledge and immediately make contact. When I'm at the Bosch Rexroth booth at the WoTS, for example, I notice that the collaboration goes much further than ordering a few article numbers from you. You are greeted by everyone as if you were part of the Rexroth stand crew."
Flabbergasted
An alliance such as Apex Dynamics and Rexroth have concluded in the Netherlands, would it also work in other countries? Van Oss doesn't see that happening any time soon: 'I've just returned from a visit to our factory in Taiwan. When I tell them that we are working with a global player like Rexroth, they are amazed. But they do like that. Such a collaboration abroad is a bit more difficult. Even in Belgium, where we also do business together, things are organized differently."
Coppens: 'We are real traders and connectors in the Netherlands. We think it's normal that if you can tackle something together, then you join forces together.' This also has to do with the fact that there is a lot of special machine development and construction in the Netherlands. "That makes companies want submodules and solutions, not just components. And then it quickly becomes more than just a motor or just a gearbox. Only then do you provide real added value."
The business partners see that customers understand. 'Because we work closely together, you have more confidence as a customer; you can exclude risks, because there is no pointing at each other. That is of course worth something and that is why customers are willing to pay a little more for such a compete drive train, which is generally not their core business."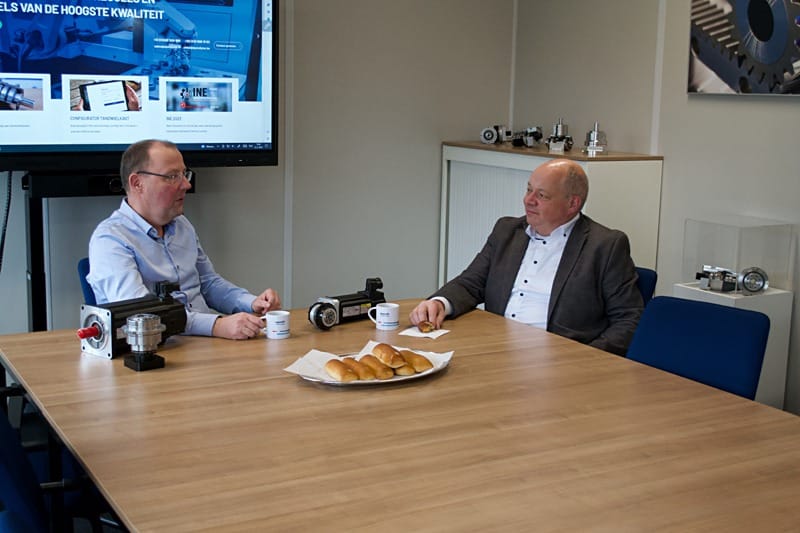 Triangle
Van Oss describes it as a triangular relationship, with Rexroth, Apex Dynamics and the customer. "If we hear something from a customer that is of interest to Rexroth, we will pass it on. And vice versa too. Of course the first happens more often because we are much smaller and ultimately only deliver a modest component in the entire application.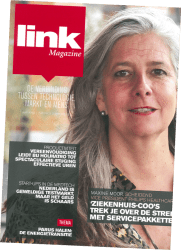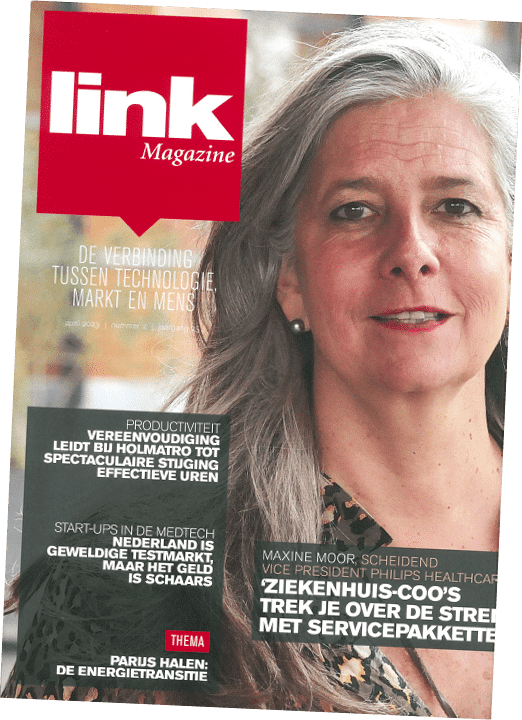 Openness and consultation ensures that the relationship continues to flourish. 'We are also talking about transport, for example,' says Coppens. "Our parts mainly come from Germany and Eastern Europe. Those from Apex Dynamics of Taiwan; that's a different story.'
"Larger orders go via ocean freight and that requires a bit more planning," adds Van Oss. 'The large orders are of course nice and ensure larger "worstenbroodjes", but it is mainly the smaller projects that benefit most from our collaboration. The customer who develops a machine and wants a drawing quickly, or needs advice about a powertrain. We then immediately know which motor belongs to which gearbox and that helps him immediately."
Author: Alexander Pil, Source: Link Magazine, Article: in pdf