Back to the overview
Introduction high precision curvic plate pinions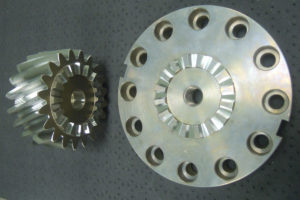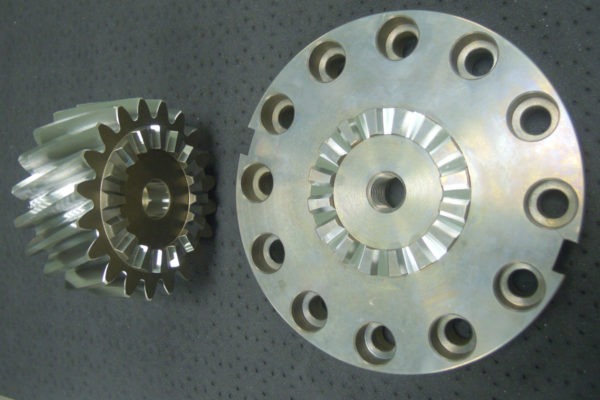 Apex Dynamics, manufacturer of low-backlash gearboxes and rack & pinion systems, has introduced a new way to mount the pinion to their gearbox: the curvic plate pinion.
Apex Dynamics developed this solution in response to the demand of manufacturers of highly accurate applications such as robotics, laser cutting machines and drilling equipment. It has resulted in a solution with much higher flexibility, applicability, backlash-free assembly and short delivery times.
The original solution
When designing a linear drive with rack and pinion, the pinion is often the limiting factor. Because the gearbox mounting holes have a normalized diameter, the choice of teeth of the pinion is often limited: small, so that the teeth do not obstruct the mounting holes or large, so that the bolts fall inside the pinion. However, in between there is an interesting range in terms of coupling, strength and accuracy. The original solution was: fixed factory assembly of the pinion.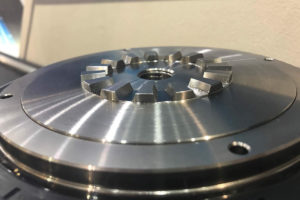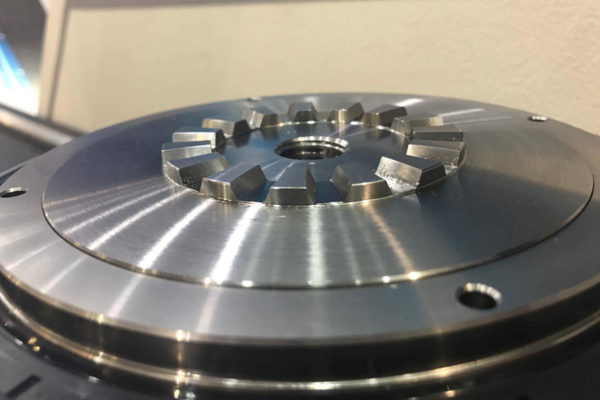 The pinion and gearbox are supplied as a single component with fixed factory installation, which has the disadvantage that the complete unit must be replaced when the pinion is wearing out or when there is a change of specification. With the "Curvic plate" solution developed by Apex Dynamics, this is history. Beside that, this solution also has a number of other advantages.
Curvic plate pinion
The patented solution consists of 2 parts; A footplate mounted on the gearbox and the pinion itself. They fit perfectly and backlash-free to each other by means of the curvic coupling. This allows a pinion to be mounted on the flange gearbox without limiting the number of teeth (for example, a Ø63 mm bolt circle and Ø63.6 mm pinion pitch circle diameter).
The advantages of the Apex Dynamics curvic plate
Maximum freedom with regard to the teeth number.
High torques can be transferred.
Backlash-free mounting.
Self-centring and adjustable by the convex and concave shaped teeth.
Each ratio, any accuracy, each module and each tooth number can be delivered FAST.
Interchangeable pinion or gearbox
Fits any gearbox with ISO9409 flange (Robot flange) such as the Apex Dynamics PD, AD and AH series.
Also integrated through the AP series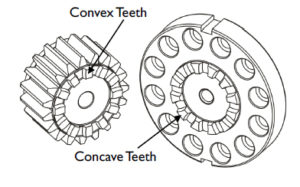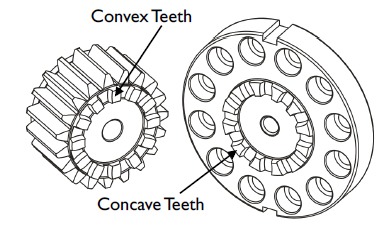 The curvic plate pinion is surface hardened, double grinded, available in straight and helical teeth, from module 2 up to 10 and always in quality class DIN4 / tooth thickness tolerance e24. On the website of Apex Dynamics BV you will find all possibilities and technical data including size, shape, location, roughness and hardness tolerances.
Also concerning innovative assembly possibilities, Apex Dynamics is running faster.
This article is also available in the French language