Back to the overview
Students make their own inverter for the URE race car powertrain
Designing your own inverter for the new powertrain of a racing car as a master's student. That is not for everyone, but Len Schoemakers is excited. He is working on the powertrain of next year's URE race car, which will switch from 400 to 600 volts, and is developing the corresponding inverter together with his team. We talk to the master's student about this challenge and his ambitions for after his studies.
Apex Dynamics has been sponsoring team University Racing Eindhoven for years and is very involved in the ins and outs of the team. Enthusing a new generation of engineers is a passion that we share with the team. That is why we talk to these students about their challenges within URE and where they see themselves after their studies. The drive of the racing car is central to this conversation.
Powertrain optimization
"In the concep phase, we look at the top-level parameters with which we can make the biggest difference. Especially in the area of ​​torque, we saw a lot of possibilties for improvement. For this we had to upgrade the entire Powertrain, a large project with a lot of risk. But in the end we are students and we do this to learn, so we took this project with both hands."
This is stated by Len Schoemakers, who was responsible for the Powertrain of University Racing Eindhoven in '20 – '21. He is a master's student of Electromechanics and Power Electronics at Eindhoven University of Technology and has been with the team since his second year of study.
"I was just 18 and came to the university for the first time during the introduction week. There I came across the URE car and my interest was aroused. I immediately called a friend from high school to tell me about it and last year we did a board year at URE together. I also want to remain involved with the team until the end of my studies. I am now working on the inverter that is crucial for the Powertrain in next year's car, the URE 17, and I want to be involved in that car before I complete my master's degree."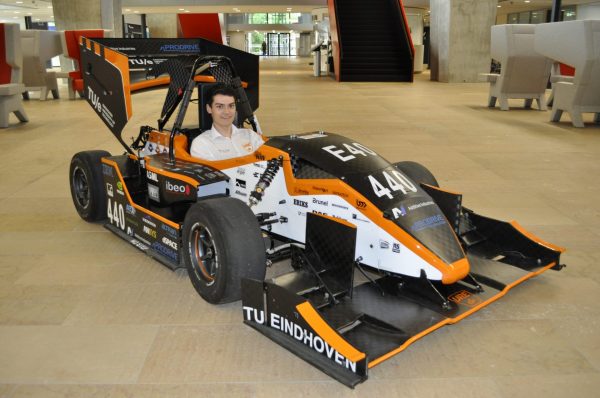 Design your own inverter
"After the new board has drawn up a target document, it is evaluated by various former members. They think along and help us to ensure that the goals are feasible and smart, because they must ensure the desired result.
And over the years, we've tried in different ways to solve the torque challenge. Although we got a better idea of ​​the solution, the answer was always missing. That is why we have now chosen to switch from a 400 volt to a 600 volt Powertrain. We will buy the motor, but this year we will make the inverter ourselves together with Prodrive, with which we will achieve more torque and a weight reduction of 8.5 kilos. The switch from an IGBT (Insulated-gate bipolar transistor) based inverter to one with SiC (silicon carbide MOSFETs) will help make this possible. The weight reduction alone is a huge step for a 200kg car!
My year will be a success if the physical inverter is ready for next year's car. We can use this to test, fine-tune the design and hopefully achieve great results."
Get started in the racing world
"If I see how much fun this project is – with how much passion and pleasure I work on it – then I would like to work in this direction as well in the future. For example at ZF Powertrains, the company that makes the powertrains for Formula E. At the same time, I also see so many interesting things happening at ProDrive Technologies, that would also be a great company to work for."