Back to the overview
Preview of Formula Student races with University Racing Eindhoven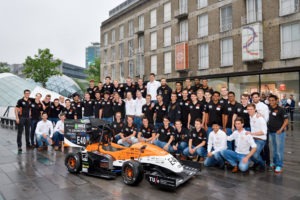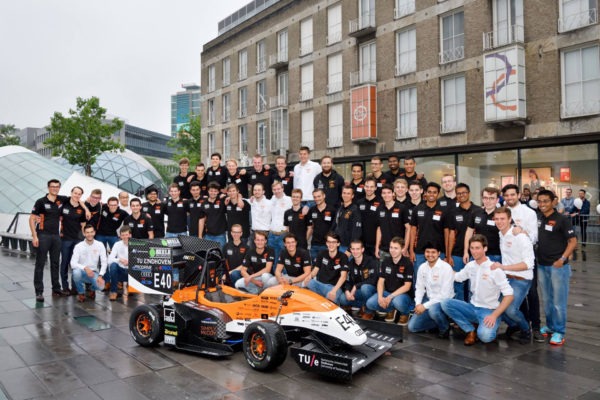 The racing season is about to start! As proud sponsor of the URE student team, Apex Dynamics looks forward to the racing season and in particular the Formula Student Race in Assen from 9-12 July. After the presentation of her new electric race car, the URE13, URE is now busy preparing for all race days. We discuss these preparations and what we can expect from the races with URE's CFO Alex Pap.
Alex, tell us! What do we need to know, first of all, about the new electric race car?
'The main focus for this racing car is the reliability at component level. He has already driven more than 200 test kilometers and we will also continue testing in the coming weeks to take out the latest issues and to fine-tune the control models. During a race, it usually about milliseconds and these tests can make that difference. Furthermore, it is a four-wheel drive race car with an engine on each wheel. So we can accelerate at a decent speed. He is currently going from 0 to 100 km in just 2.3 seconds. [To be clear: that's faster than a Bugatti Veyron]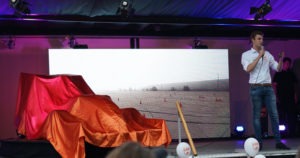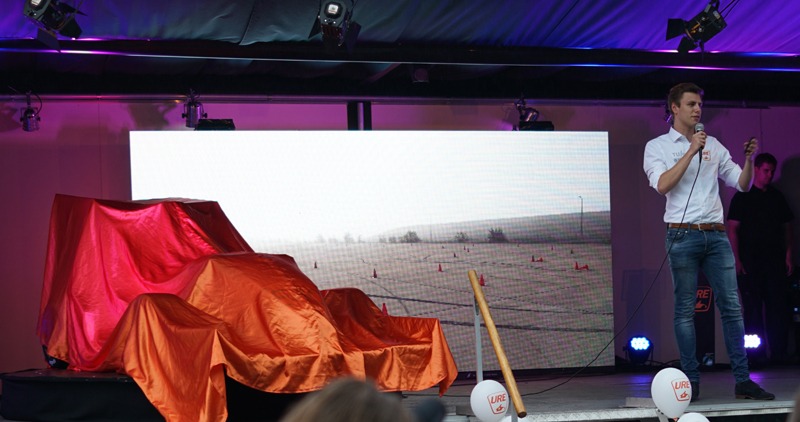 The biggest challenge for us so far was to finish the race car as quickly as possible. This is important because then we could test and fine-tune as much as possible. Almost 70 people have worked on this car in recent months, 10 of them are full-time employees. We were not always in control, for example the aluminum industry where there is a shortage of aluminum. This meant that certain parts could not be delivered on time. We are therefore very dependent on the planning of our 89 partners. It is important to maintain good contact, to communicate clearly and to do as much as possible yourself. Only in this way we have everything under control.'
Is the car now ready for the Formula race in Assen or will you continue to develop it in the coming weeks?
'Until July 12 we will continue to test the race car. Of course he has to drive as fast as possible and we use the remaining time to drive as many test kilometers as possible. We check the car and modifications are still taking place. Even after the race on July 12, the car is not finished yet. The race in Assen is the first spot on the horizon, but there are many more exciting races ahead. There is a race in Hungary in July where we participate and in August we go for races to Germany and Spain. The formula student races are held worldwide. The number of participating teams also differs per country. Some 60 student teams participate in the Netherlands. In Spain there are 80 already.'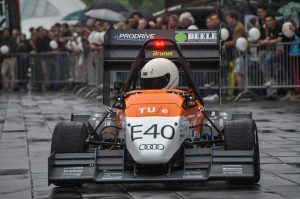 That sounds like a very valuable experience. Can you tell me what to imagine at such a Formula Student Race? Is it really a student event or do I have to imagine a huge spectacle with VIP Deck, champagne being sprayed and pit girls all over the place?

'It is more of a student event. Winning is not the only goal. We want to learn as much as possible, exchange information and experiences and perhaps even come up with new concepts. Through this experience, create as much technical and business-oriented/company-oriented knowledge for the future as possible. A race event consists of several days. I will describe a little of what such a competition consists of and what happens from day to day. For example, take the race in Assen.
The first day we arrive and we build the campsite, there are all sixty teams. In addition, we make preparations for the days after. The second day there are the so-called Static events.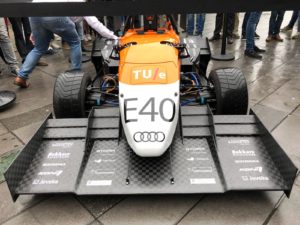 We present our business plan, during the design event we defend the choices behind the design and we also present a cost accounting, the materials used, how we can develop the prototype to mass production and a risk analysis. It remains a student competition and we therefore have to justify a number of things on a theoretical level. The third day is about acceleration, skidpad and autocross. Acceleration is about getting the car as fast as possible from 0 to 100 km per hour. During skidpad we have to drive as fast as possible in the shape of an 8 and with autocross we drive as fast as the car can achieve on a certain course.
The 4th day is the last, perhaps the most exciting, part: endurance. During endurance we have to drive a course of 22 km as quickly as possible. This is a somewhat longer course where we test the endurance and efficiency of the car. The award ceremony takes place at the end of the 4th day. You get points for each part and you can win something. The best performing team wins the big prize. That will be celebrated well but you will not see us wasting champagne and also the pit girls are hard to find.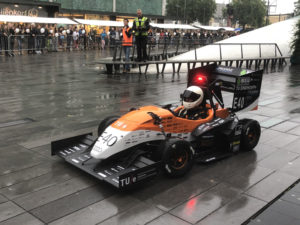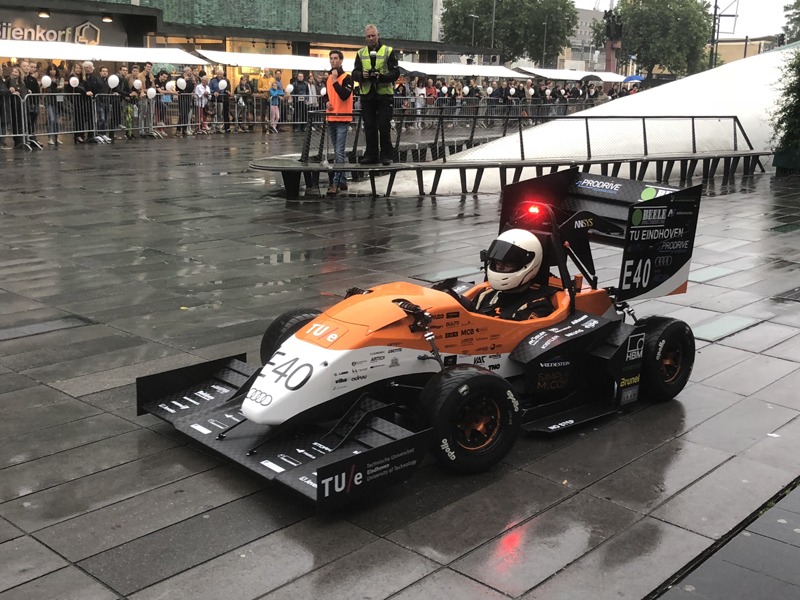 The day after we finish, wrap up and we go home to pop in bed.'
Which parts will be assessed?
Static events
Business Plan Presentation
Cost event
Design event
Dynamics events:
Acceleration
Skidpad
Autocross
Endurance + Efficiency
This year the team will celebrate it's 15 years anniversary and you have built already 13 cars, how do you keep challenged and prevent from falling into repetition?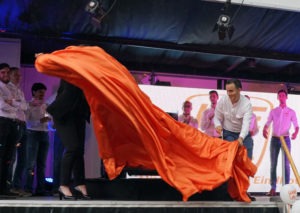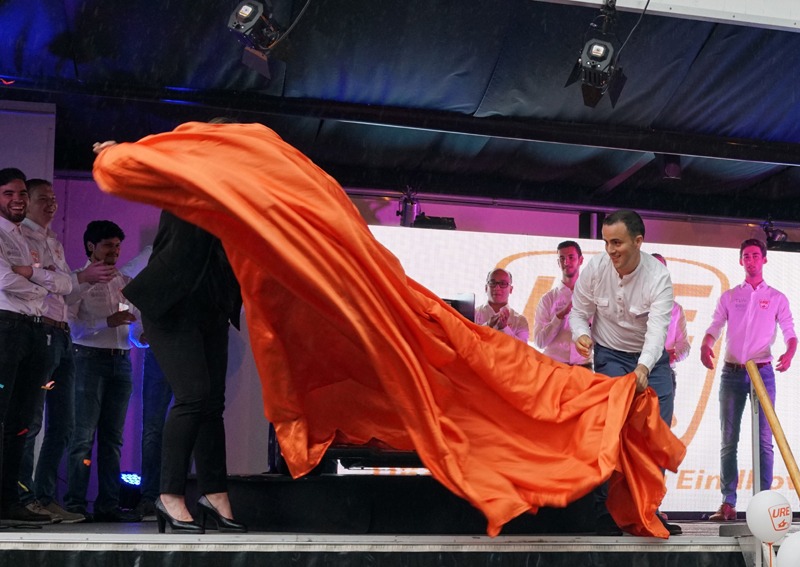 'We continue to come up with new things and challenge ourselves in other areas. We are now also developping a self-driving car. That is new this year. So at this moment we are really going to a process in which we have bearely experience. The control models are under development and must be tested to get it functional. We hope to be able to run an autonomous demo at the end of August. The team also changes. On average, the team members are connected to URE for about 2 or 3 years. Every year there is a new full-time team. Some part-timers continue after about 2 years and then become full-timer. At that point you hope to have sufficient insight and practical experience to manage a group of 67 students.
My personal goal after URE is to really do my own thing. Not a big organization, I really want to keep my autonomy and value. In addition, it would be nice to be able to really contribute to a better world. '