Back to the overview
APEX DYNAMICS welcomes Stef van Oss, Operations Manager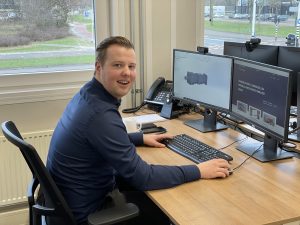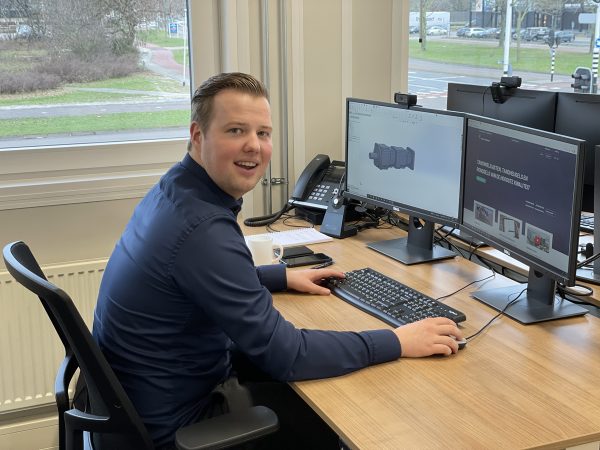 Stef van Oss started at Apex Dynamics on January 1, 2023. After studying business management for small and medium-sized enterprises (SMEs) and experience in various companies and positions, Stef joins the team of Apex Dynamics BV as an operations manager. In his role, he will support his colleagues in various areas so that they have more time for their core tasks. In addition, Stef will be involved in updating and monitoring various processes within Apex, with which he hopes to contribute to the further growth of Apex. In this article we introduce Stef and tell more about his experience, activities and plans for the future.

It promises to be a fun and educational period for Stef van Oss. As of January 1, 2023, he is part of the Apex Dynamics BV team, but he has also started a new phase outside of work. "Recently I started living on my own, so besides football, golf and parties with friends I enjoy my new independence and everything that comes with it."
This new phase of life goes hand in hand with his new position at Apex, but who is Stef and what can we expect from him?
Study business management and interest in Apex Dynamics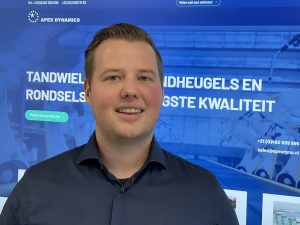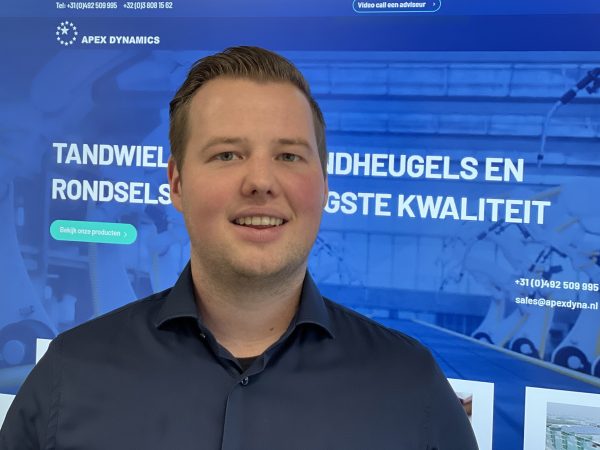 Three years ago, Stef completed his studies in business management for small and medium-sized enterprises at Fontys in Eindhoven. He already knows when he chooses his study: this is a broad education with which I can go in many different directions and gain knowledge about entrepreneurship. He already knows that he hopes to work at Apex Dynamics one day. His father, Thom van Oss, took over Apex Dynamics BV 15 years ago and in 2020 Stef did an internship at Tecnopower, the Spanish representative of the APEX DYNAMICS program.
Broad work experience
Nevertheless, Stef does not immediately start working at Apex Dynamics BV after completing his study. He wants to gain experience elsewhere and starts to work at a transport company where he already worked during his studies. Around his graduation, the company's financial administration is short of staff; they need an extra hand. This offers Stef a great opportunity to gain experience and to think about the direction of his career.
In 2021 he started to work for a startup. He was this company's first employee and spends the first six months developing the product, after which he focuses on launching and selling the product.
"My time at the startup was a real leap of faith. A fun and educational time, which was also difficult at times, because I was solely responsible for the entire project and company."
Switch to Apex Dynamics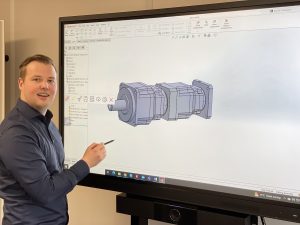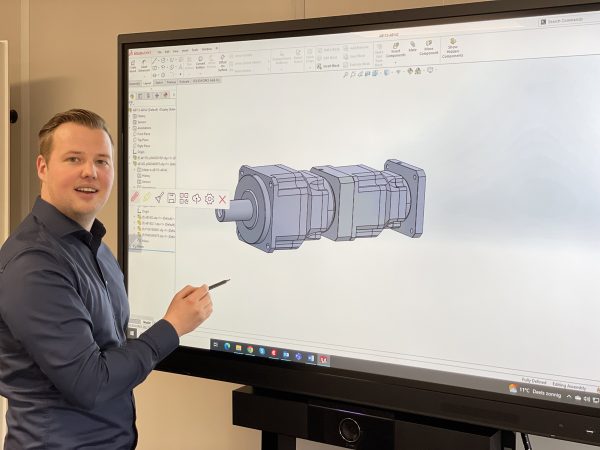 After a year and a half at the startup, it is time for the next step and Stef is talking to Apex Dynamics BV. As of January 1, 2023, he started working as an operations manager, a position that, according to Stef, can best be described as a rush goalie.
"I will support the entire team, from warehouse to purchasing, sales, quality and marketing. This means that I can be found in the warehouse when the shipments come in and the orders go out, that I check our product range online for correct data and that I will slowly process more and more quotations and orders. I think that spread in activities is characteristic of a relatively small company like Apex and makes my work very enjoyable."
Focus on process optimization
In addition to supporting his new colleagues, Stef focuses on recording and improving internal processes. Apex Dynamics BV has grown enormously in the past fifteen years and wants to continue this growth. To achieve this, Stef will work on process optimization: how can we improve the internal processes so that they contribute more to the growth of Apex Dynamics BV?
A good example of this is the warehouse. The current process of receiving shipments, placing products in stock and order picking has evolved over the years. But the product range and stock have increased considerably in recent years, so that they now have not one but two warehouses.
"It sometimes happens that a product is in the wrong warehouse. Now both warehouses are within walking distance so it's not a problem, but it could be more efficient. In addition, it is relatively difficult for a new employee to step in because the process is not clear; there is still too much room for personal interpretation. Our warehouse is very important, because we want to deliver within three weeks. Streamlining and make the processes more effective in our warehouse is therefore an important and fun project that I will spend time on this year."
In addition, Apex Dynamics BV is considering ISO certification. This is not necessarily needed because our factory in Taiwan is already ISO-certified, but it is interesting for internal business operations.
"If we choose to apply for ISO certification, we are actually forced to look very critically at our processes and to ask ourselves what we can change and improve to grow further."
Gain product and technical knowledge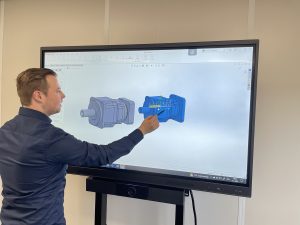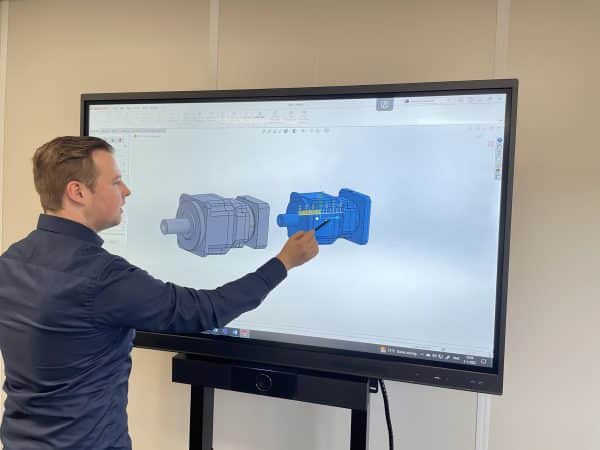 In addition to optimizing processes, Stef will be involved in updating systems and databases, for example the specifications of all products. With this he wants to monitor the transparency about specifications on the website, it also helps him to gain product knowledge.
"One goal is to be able to provide better advice to machine building companies. I don't have a technical background like Eric and Thom, which is why I'm looking into the possibilities of taking an extra mechanical engineering course. But I also have to and want to learn a lot about the various APEX products, so that I can take over more work within Apex Dynamics BV."
The first step has now been taken; gain product knowledge. Stef checks all product specifications to see whether they are still correct and are correctly listed on the website. These product specifications are continuously improved by the factory in Taiwan and are part of the service that Apex Dynamics BV considers so important:
"Full transparency about specifications is a service we offer and we want to do as good as possible, so we are now going to check the entire product range and we are introducing periodic checks to monitor quality."
Warm welcome to the APEX family
As mentioned, Stef is already quite familiar with APEX:
"As long as I can remember I hear all about APEX at home and during school holidays I was allowed to help Els in the warehouse. So the interest in Apex started a long time ago and it really feels like a family."
As an example, Stef mentions his international experiences at APEX DYNAMICS. For example, in 2017 he visited the factory in Taiwan to celebrate the 30th anniversary, joined the APEX worldwide meeting in Korea in 2018 as part of his minor in entrepreneurship and now sees in practice how important those international relationships are in daily practice.
"The 30th anniversary was fantastic, very impressive: people from 36 locations worldwide and all employees in Taiwan at one table. The anniversary and the annual APEX World Wide meetings increase the solidarity that is so important in the collaboration. For us, we mainly work with colleagues in Europe, for example when we do not have a product in stock, but our colleagues in Germany do have it, we can often arrange to deliver as soon as possible from the out of colleagues stock. But we also have regular contact about questions and new challenges."
Future plans at Apex Dynamics BV
What does Stef hope for his future at Apex Dynamics BV? "I first want to gain more knowledge and prove myself within the organization, so that I can take more and more responsibility." In the meantime, Stef is also working on a new project that we will soon be able to reveal: the Apex Experience.
If you want to follow Stef's activities and career, connect on LinkedIn