Back to the overview
We challenge you !
Win a Segway tour for 4 persons. Apex Dynamics BV is challenging you during the event Industrial Automation & Drives 2012. Defeat the Air-Hockey robot and win a Segway tour for 4 persons. Use your speed, skills and experience to play against the Air-Hockey robot on our booth 03D054. This robot is developed by TMC Mechatronics and exists of an air-hockey table with vision system to detect the angle, track and speed of the puck, a mechatronic arm with high dynamic servomotor, an Apex Dynamics AE090-070 planetary gearbox with extreme low inertia in combination with carbon-fiber arms. Due to this combination it is almost impossible to score a goal against this Air-Hockey robot.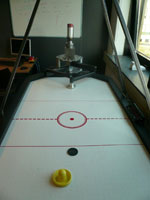 After the event Apex Dynamics BV will raffle a Segway Tour for 4 persons among all registered players.
Do you think you can beat the robot?
Visit the Apex Dynamics booth 03D054 during the Industrial Automation & Drives 2012 from 2nd  till the 5th of October and take that challenge!