Back to the overview
Hightech recumbent from Delft breaks world record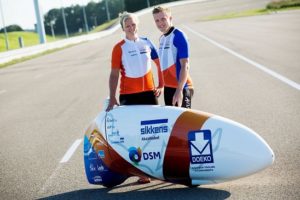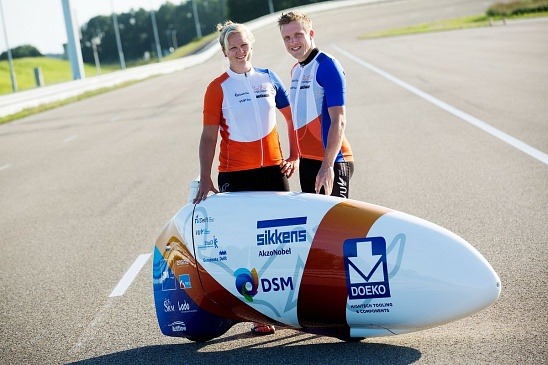 It came down to the very last record attempt of the week of the competition, but everything finally fell into place: Sebastiaan Bowier reached 133,78 km/h in the high-tech recumbent from students of the Delft University of Technology and the VU University Amsterdam. With this speed, he broke the world record and became the fastest cyclist on the planet. It was 0,6 km/h faster than the previous record, set by the Canadian Sam Wittigham. Team manager Wouter Lion elated: "We knew that the technical and the human aspect of the race were right today. We knew it was possible and it is amazing that is actually happens. And he did it with difficult head wind."
Alongside the new top speed of Sebastiaan, the second cyclist of the Delft/Amsterdam team also reached a world class speed: Wil Baselmans is with 127,43 km/h the third fastest man on earth, right after Bowier and Wittingham.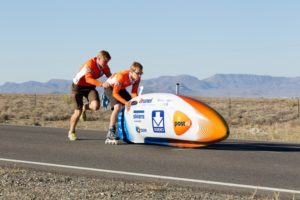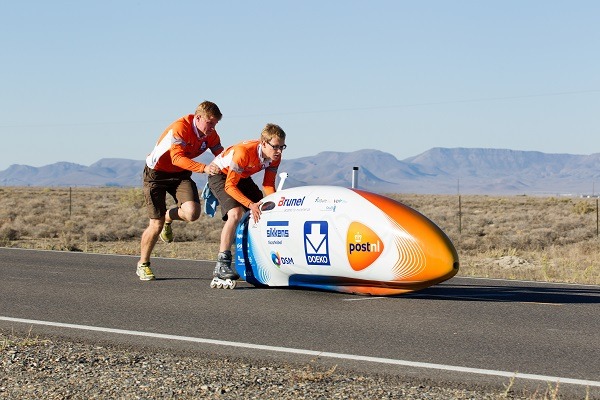 The speeds were measured over a distance of 200 meters, after accelerating on an eight kilometer straight road in the desert of Nevada (USA). "It was incredibly exciting. We had 6 days to break the record, but in the beginning we found some technical problems. We spend a couple of nights to solve everything. When you break the record, after three evenings of bad weather, at the last possible chance, it feels incredible", says the proud team manager Wouter Lion.
The team made great use of advanced computer simulations. They showed what speed the bicycle should reach at certain power, delivered by the cyclist. "From the data of the record attempts earlier this week, we noticed a big problem that prevented the VeloX3 bicycle to reach high speeds", says Wouter Lion. "The computer simulations showed that the bike should have gone a lot faster than it did and after a thorough analysis of the data, the problem turned out to be an aerodynamic problem. When pedaling at high power inside the VeloX3, the outer shell turned out to deform slightly because of the force", says Wouter Lion. The students managed to find a clever solution, so the problem was solved yesterday.
The selection of the best cyclist and the amazing preparations and strategy of the race were done by Movement Science students from the VU University Amsterdam. "The cyclists trained for 15 to 20 hours a week to make sure they were in perfect shape to break the record", says trainer Jelle de Jong.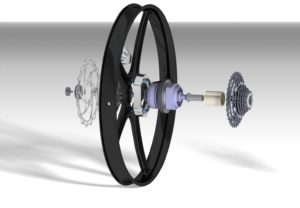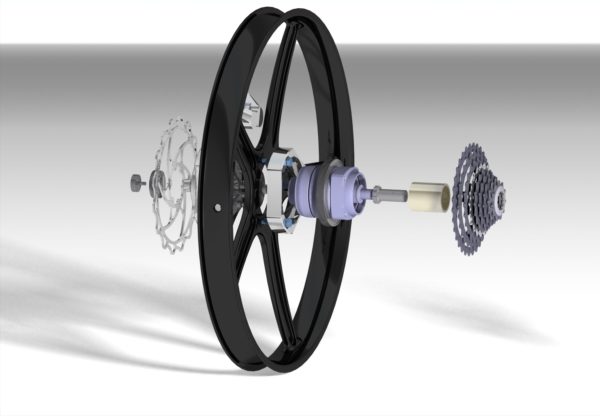 The Delft team decided to use a laying down position and an aerodynamic shell with extremely low air resistance. "Compared to an ordinary bicycle, our design only has one tenth of the air resistance. We also make use of a special coating from Akzo Nobel which they use in the Fomule 1, which gave the VeloX3 extremely low resistance", according to Wouter Lion. "It is not only thanks to the students and the cyclists, but also thanks to the companies that helped us, such as our main sponsor Post NL. They have supported us from the start of the very first team to show that the Netherlands really loves their bicycles. That is something we can be proud of."
Apex Dynamics BV provided some PSII planetary gearboxes for this world record attempt. With this ultra light gearbox, the students developped a special construction to drive the recumbent which made it possible to break the world record.
For more information:  homepage van HPTdelft. Below a movie, right after the record attempt .
Apex Dynamics congratulates the HPTdelft team with this fantastisc achievement.
Press release September 15, 2013, Helmond. (Source: www.hptdelft.nl , photo's: Bas de Meijer)