Back to the overview
10 years planetary gearboxes from Apex Dynamics in the Benelux
A special achievement, to acquire a significant market share for a non-Western manufacturer in the traditional market for low-backlash gearboxes. This is exactly what Apex Dynamics BV in Helmond, the Netherlands, achieved in the past 10 years. Apex Dynamics 'runs faster' and soon we will start supplying high-quality racks and pinions. What is our secret? We know that in addition to high-quality products it mainly involves the commitment, effort and service level of our team. Therefor the next 10 years Apex Dynamics BV will continue to develop and become the supplier of high-precision mechanical devices.
Planetary gearboxes for the European market
On June 1st, 2016 it is exactly 10 years ago that Apex Dynamics BV was the first establishment to sell under the name of Apex Dynamics high-precision low backlash planetary gearheads in the European market. With success, because now 10 years later we established a solid distribution network in which almost every servo motor manufacturers and/or distributor is connected.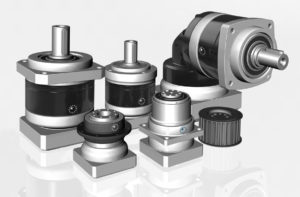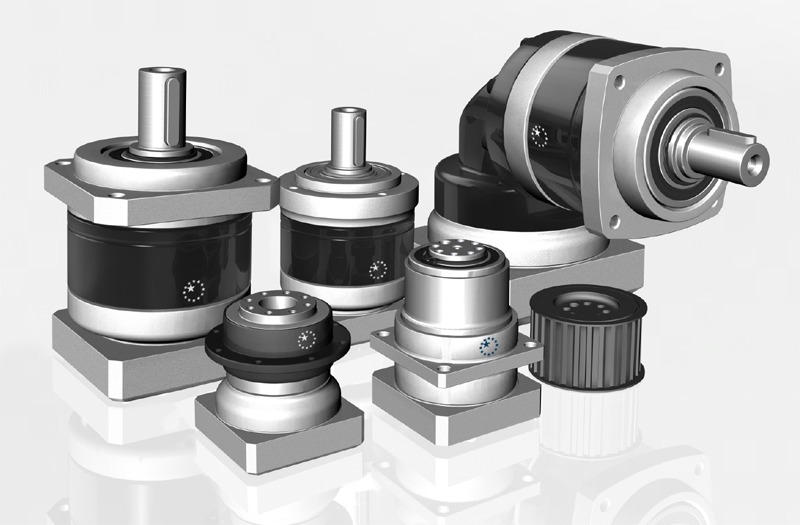 Since we started, there are nine other independent, stock holding and service-providing entities of Apex Dynamics opened in Europe but Apex Dynamics BV in the Benelux is for the factory in Taiwan still one of the most successful 'family members'. Our unique approach and method means that clients can count on personal attention, prompt service and delivery. This combined with the high quality Apex Dynamics products provide a strong proposition. Simply said, customers know how to find us because we run harder for them.
Symbol of trust and loyalty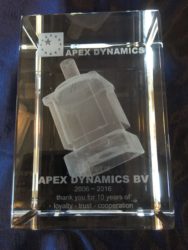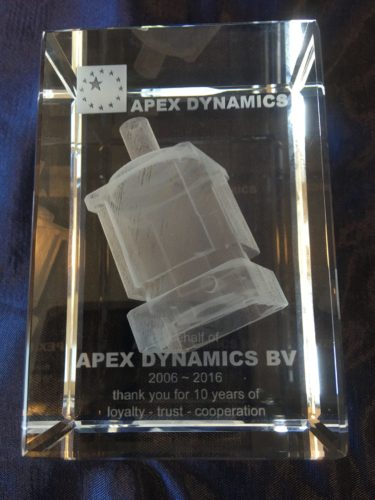 Apex Dynamics BV director Thom van Oss recently handed out in Taiwan a special trophy to Mr. Robin Chang, president of Apex Dynamics Inc.. This trophy symbolizes 10 years of loyalty, trust and close cooperation, it was for both of them a very special moment.
"Together we were able to open up a very traditional market and to get our feet on the ground in Europe," says Thom van Oss, "a unique achievement of which we can be very proud."
Gearboxes for almost every servomotor application
The product range of Apex Dynamics has expanded each year. Nowadays we deliver 44 different series of planetary gearboxes for applications in markets such as food and beverage, packaging, textiles, medical, graphic, horticulture or automotive. The series can be distinguished for example by using angled or straight, hypoid, bevel gear and different types of materials. For example, we have a series completely in stainless steel and there is also a so-called 'economy'-range which are using more economically interesting materials.
The conclusion is clear:
Apex Dynamics can offer a suitable solution for almost any servomotor application.

From planetary gearboxes to complete mechanical solutions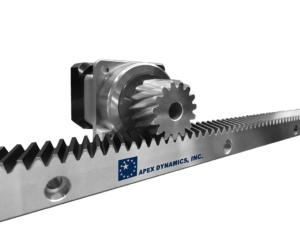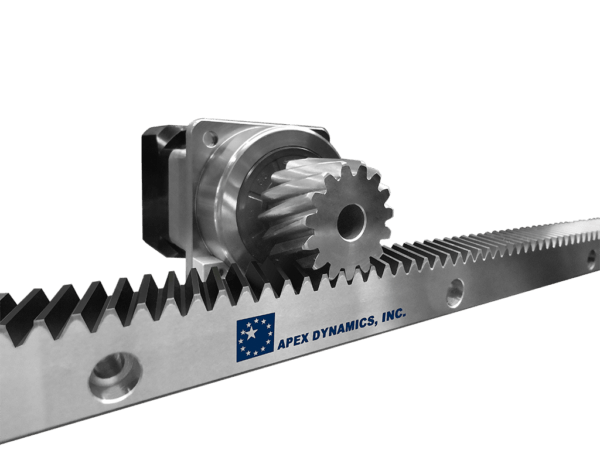 Apex Dynamics Inc. recently built a second factory, which is fully dedicated to the development and production of the highest quality racks and pinions. These racks and pinions can be delivered soon from out of stock in the European market and are a welcome (and much needed) addition to our existing program. It feels as a natural completion.
With the advent of the racks and pinions, the term only low backlash planetary gearboxes does not cover our complete activities anymore. The next 10 years we will therefore do everything to be the leading supplier of high-precision mechanical devices for the motion industry. Fortunately, for many years we clearly know how to do this: by running faster for you!
Apex Dynamics will remain running faster the next 10 years, for you
The past 10 years have proved, running faster works! Of course the market demands for high quality products, which is the basic, but good cooperation requires more. Quick answers to questions and a clear offer, short delivery times (if necessary the next day) and a supplier that is standing behind its product and service. That is in a nutshell what Apex Dynamics has been able to prove in the past 10 years and how we will make the next 10 years into a success.
The most important thing we have saved for last: We want to thank our customers for the loyalty, trust (which will continue to grow) and the good cooperation over the past 10 years. We promise that we will always continue to run faster, without you we would never have come this far.
Apex Dynamics BV, just that little bit extra, faster and better. That is after 10 years in our genes and that will never disappear.
Press release Helmond, Juni 1, 2016.