Back to the overview
Articulated arm robot on the 7th axis automates the loading of CNC machines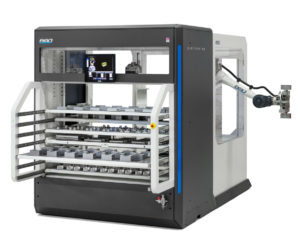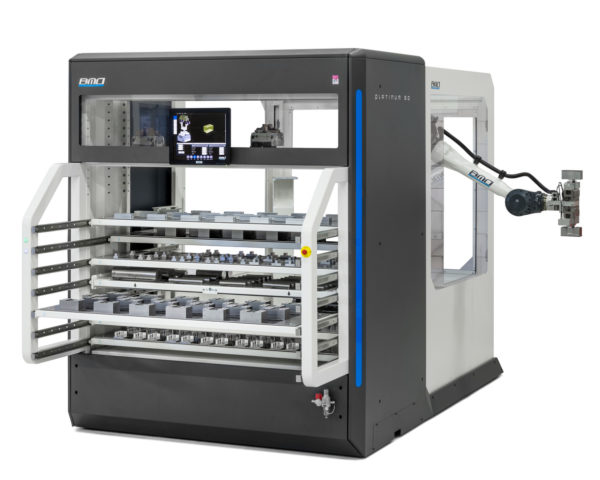 BMO Automation opted for Apex Dynamics rack systems to move an innovative articulated arm robot on a linear axis. The new robot cell has a greater reach than comparable installations and also creates more space for the operator, which also makes it possible to automate CNC machines which are difficult to load. The fast, perfectly fitting solution from Apex Dynamics, combined with the short delivery time was decisive for the choice of BMO Automation.
The application
The basis of the automation is a freely programmable 6-axis Yaskawa articulated arm robot. This can be mounted to a "7th" axis for certain applications in order to get a larger reach. This way the robot can not only grab and handle products, but also move them over a linear axis. For example, the same robot can take products from a mould and put them further away. Because the CNC machine can be placed further away from the robot cell, the added advantage is that more room is created for the operator so that it is more easy to operate the CNC machine. Even CNC machines which are more difficult to load can be automated with this option.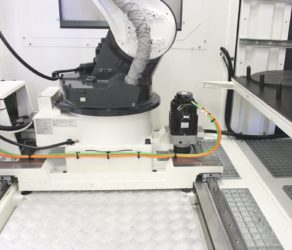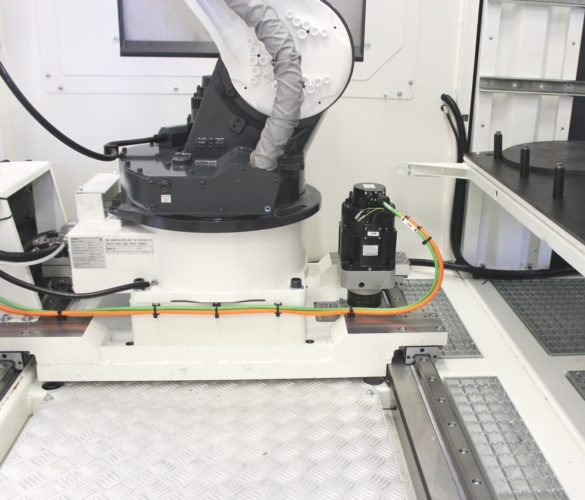 BMO contacted Apex Dynamics for this application and various components were selected from the wide range of Apex Dynamics: the low-backlash gearbox, the pinion and the racks. Delivery from one hand.
The PII series was chosen, where a slotted front plate was mounted so that it is easy to adjust the pinion on the rack. A 20-teeth pinion with helical teeth was then mounted, which runs over a preassembled rack in quality 6. The helical teeth made it a quiet and strong drive.
Harco Hermans, responsible for the R&D at BMO Automation, tells us the following:
'For the easy loading of a CNC milling machine at the front, we have integrated a robot track into the middle frame of our robot cell. For this I was looking for a suitable gearbox with pinion and rack which had to be delivered within 4 weeks. After a phone call with Eric Megens, we had discussed all specifications and 2 days later I received a complete quotation. I was very surprised about the short delivery time of 2.5 weeks that Apex Dynamics could guarantee! Due to this short delivery time, the production of this robot cell has been carried out according to plan '.
About BMO Automation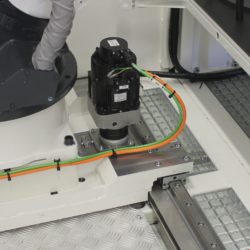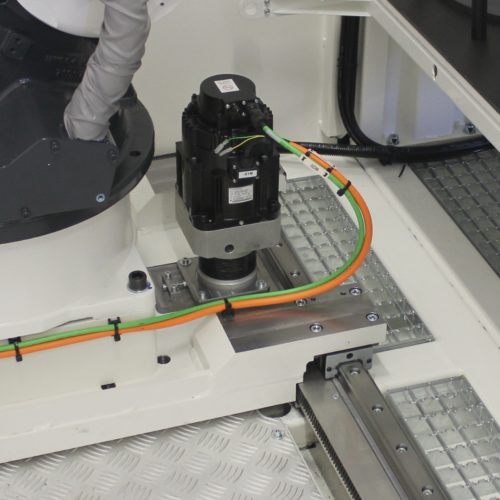 BMO Automation, founded in 2008, develops and produces user-friendly, innovative automation solutions for loading CNC lathes and milling machines in the metal and plastics processing industry.
Driven by a passion for machining and robots, BMO Automation has developed a wide range of intelligent automation systems. It has an affordable solution for every size of business and automation requirement.
The mission of the company is to meet the needs of the customer with a perfectly matching automation solution. BMO immerses itself in the business processes, listens to the needs, and provides tailor-made, honest, advice based on its knowledge and experience. Furthermore, BMO is able to respond to market needs via its own engineering, development, and service departments. Innovation, reliability, passion and expertise are important core values. The robot automation systems of BMO Automation are positioned in the higher segment of the market and are therefore at the forefront of innovative possibilities.

For more information, please contact:
Maarten van Bun
BMO Automation B.V.
Magnesiumstraat 16B
6031 RV Nederweert
Tel +31 (0) 495 622 437
Email: maarten@bmoautomation.nl