Back to the overview
Special Applications : FLOW – Stainless Steel
A Revolutionary FLOW pack machine. The stainless steel gearboxes from Apex Dynamics are perfectly suited for the new developed and revolutionary vertical form, fill and seal machine, "FLOW" ofGKS Packaging. Ivo Geukes, inventor and builder of this special packaging machine has started with a quarter circle shape in which everything had to fit.
FLOW is distinguished by its blue Plexiglas enclosure and a special form. Inside the machine is everything, except the main beams, vertically so that dirt has no effect. The machine builder speaks of a complete hygienic design. The construction is 100% stainless steel according to IP67. The servomotors even meet the IP69 standard. All wires and tubes are mounted inside the bars as much as possible to avoid dirt may remain.
Through a IPad-like touch screen and a very intuitive menu, the machine is easy to operate.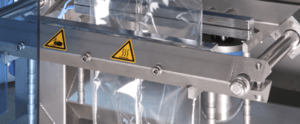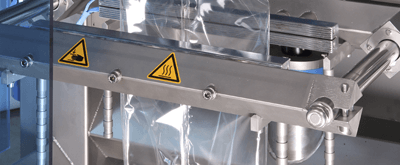 FLOW causes a very low CO2 emission because it runs on 230 VAC and also has an automatic power save mode for the heaters when the machine is not running.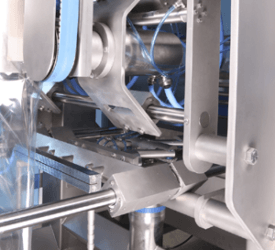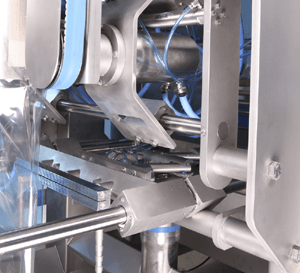 In the machine, the AE-series gearboxes of Apex Dynamics are used for the transport of the foil and the movement of the sealing bars. Due to the almost aseptic form and standard stainless steel housing with stainless steel output shaft, these gearboxes fit perfectly in this particular machine.
For the positioning of the printing unit, the AT-series of Apex Dynamics are used. This fully stainless steel spiral bevel gearbox was exactly what GKS was looking for to allow a construction which ensures that the foil used in the Flow can be printed as accurate and flexible as possible.
FLOW is a highlight on every packaging fair, everyone stops to look at these unique appearance. Perhaps you will see this unique vertical form, fill and seal machine soon, then you can take a look at the gearboxes of Apex Dynamics inside the machine and convince yourself with the benefits of our stainless steel gearboxes.
Thanks to: GKS Packaging ( www.gkspackaging.com)