Back to the overview
Formula Student Electric featuring Apex gearbox
What is a greater compliment than that a team of 50 students in mechanical engineering, mechatronics, electrical engineering and nano-engineering chooses your product for their pioneering race car?
That is exactly what happened when the E-Team of the University of Duisburg prepared themselves for the 2013 season of the Formula Student Electric. In this competition, student teams from all over the world compete for the first place with the most innovative electric-powered racing cars. In the racing car of the Duisburg team, they selected two AD110 stainless steel gearboxes with output flange, which are equipped with a custom-made adapter plate designed and made by Apex Dynamics.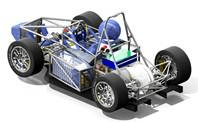 There was a constructive challenge for the engineers to transform the power of the differential to more torque / less speed, taking the limited space into account. The engineers were immediately very font of the  Apex Dynamics AD gearbox, which didn't only build short, but also could handle the high input speeds and torques.
In 2012 it where the universities of the "Automotive" cities of Stuttgart and Munich which managed to conquer the first and second place, but the organization expects a much tougher competition this year! We therefore hope that the use of Apex Dynamics gearbox can make a difference here and the team from Duisburg is ranking the top 3!
This project, as our support to the Human Power Team from Delft, well underlines that "Apex Dynamics runs faster"!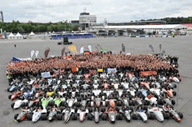 Press release May 17, 2013, Helmond