Back to the overview
Graduating with a snowboard grinder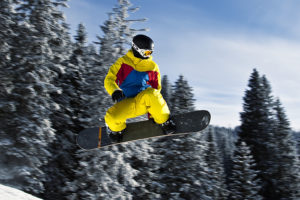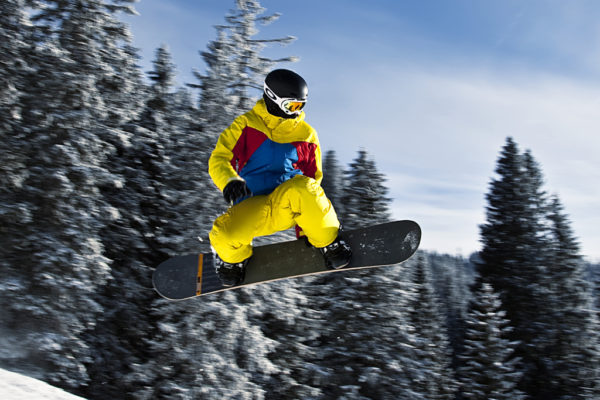 Building a complete automated machine for only € 500, where would you start? The Markiezaat College in Bergen op Zoom challenged her students and at least one project is certainly exceptional: The snowboard grinder of Daan, Jimmy and Jörgen. Of course it cost more than € 500- that's why they had to find sponsors. Apex Dynamics liked the challenge and appreciated the design, therefore we supplied the necessary gearbox.

Daan van Aert, Jimmy Hagens and Jörgen Bakker decided to design and build a snowboard grinder which can wax and grind, fully automatically, a snowboard. Due to a lack of time unfortunately they could not finish the wax function but the grinding functionality is completed successful.
The design
The graduates explain their machine:
"In the snowboard grinder we used one linear guide on both sides of a trolley which is connected to a toothed belt to move the grinding unit over the board. One carrier is equipped with the grinding unit and the other carrier with the waxing unit.
With the movement both carriers act as a contra-weight so that less force is needed to move the carriers".
Control Techniques servomotor and Apex Dynamics planetary gearbox
The trio chose a servomotor from Control Techniques in combination with a planetary gearbox from Apex Dynamics (the PAII series).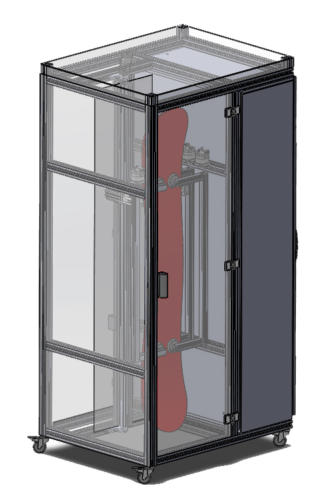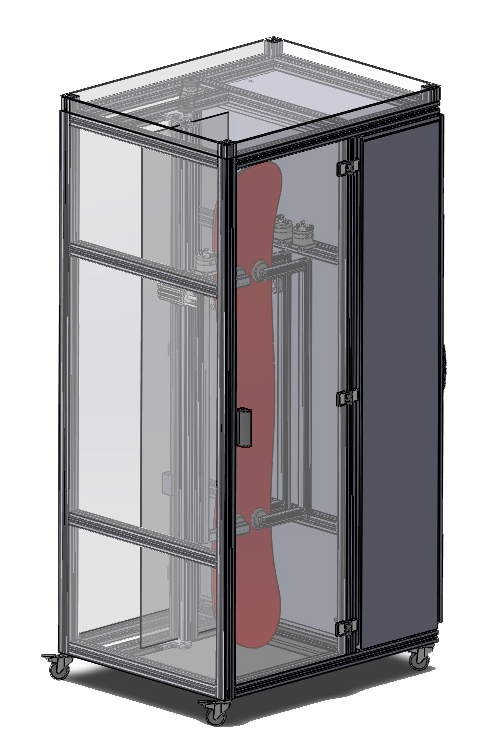 They specifically picked this gearbox because of the 1:20 transmission.
It allows the possibility to use a relatively small servo motor which can produce more than enough torque to drive the linear guide.
The belt pulley which is mounted directly on the shaft of the Apex Dynamics gearbox gets a high radially load, fortunately this is no problem for the PAII gearbox.
Linear guide
The entire linear guide, including operational units, can rotate 180 degrees on its axis. The board can be waxed simultaneously by the waxing unit which is on the other side of the linear guide. The grinding unit is driven by a servo motor and is able to grind the side as well as the bottom at the same time.
During operation, the board is held in place by suction cups that are pressed against the board by rotating cylinders (see the movie below).
The whole machine is PLC controlled and can be operated by the user with a touch screen. During the operation, the transparent doors are locked by means of electric safety locks, to prevent opening when the machine is running.
Proudly the men state: "We are very pleased with the end result, but this was only possible by sponsors such as Apex Dynamics. Thank you very much for that."
Press release, Helmond 22-02-2017