Back to the overview
Health and Safety: ISO 45001 certified!
Good labour conditions are very important, or better: obvious. More and more companies want to be assured that the products and/or materials they purchase, are manufactured in a socially and environmentally responsible manner. We are proud that we can guarantee that this applies to the products of Apex Dynamics.
Apex Dynamics Inc. in Taiwan fulfils not only at product level a pioneer role, but also in the field of safety and working conditions. In addition to the ISO 9001 and ISO 14001 certificates Apex Dynamics Inc. recently achieved the ISO 45001 certificaat.
ISO 45001 (previous OHSAS 18001) is the international standard for an OHS management system. The OHS (Occupational health and safety) management system is used to develop an appropriate OHS policy for an organization and to ensure its implementation.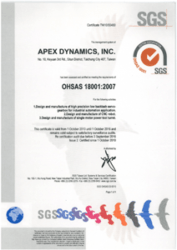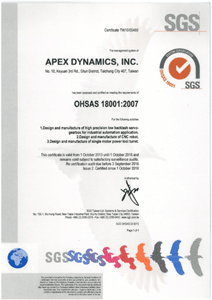 ISO 45001 provides a clear framework in which an organization needs to focus its safety policy. The device starts with a policy statement and is working step by step towards continuous improvement of working conditions. ISO 45001 is ideal for organizations that have a social role, such as governments and big enterprises to give the example that they perform according this role model.
ISO 45001 is used by organizations that want to control occupational risks effectively. The system enables the organization to continuously improve.
ISO 45001: the better alternative to SCC
A large number of companies in the Benelux is VCA (SCC) certified. ISO 45001 is in contrast to the SCC system a relatively young system, but better adapted to the existing ISO 9001 and ISO 14001 system and has been prepared in accordance to an internationally certifiable standard.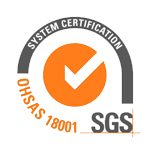 Also in the continuous improvement of its organization and environment: Apex Dynamics runs faster!