Back to the overview
Never, ever quit
Apex Dynamics BV supports René Verbruggen for Alpe d'HuZes. Since 2006 the Alpe d'Huez is the stage for Alpe d'HuZes, a Dutch event organized to raise money for KWF (The Dutch Cancer Society). During this event the Alpe d'Huez will be climbed several times by the thousands of participants. Under the motto "Never, ever quit" the goal is to climb in one day the legendary Alpe d'Huez 6 times, an almost impossible task. Still many participants, even some (ex-) cancer patients succeeded in this challenge.
L'Alpe d'Huez is one of the main mountains in the Tour de France. The climb is 13.8 km at an average 7.9%, with 21 hairpin bends. It was first included in the race in 1952 and has been a stage finish regularly since 1976. The mythical image of the climb is continuously attracting many spectators along the route. With each edition of the Tour de France the mountain is crowded with many Dutch to encourage the cyclists. The seventh hairpin is known as the "Dutch Curve".

For 2013, Apex Dynamics BV decided to sponsor a business relation for participation in the Alpe d'HuZes: René Verbruggen.
René is Sales Manager at a company that supplies "perfection in automation". The contacts between René and Apex Dynamics carry back to early 2006.
On June 2nd 2011, René had an accident where he suffered serious knee injuries. For a long time he had to move on crutches and in a wheelchair. After two surgeries  he started a long rehabilitation process. During his rehabilitation period René met a team that cycled the Alpe d'Huzes in 2012. With great respect for what they did, he followed them during the preparations and the real climbs in June 2012.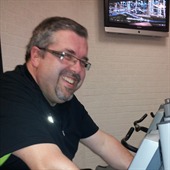 End of October 2012 at René's gym a "half Mountain" riding was held on a spinning bike and René accepted the challenge to work out an "all mountain" riding. Days after this challenge this achievement did not let him go and the thought occurred to him "why not in real life?".
"It should be a great victory on myself, a victory that I want to dedicate to all people who have to deal with this terrible disease" René said.
After several months of very hard training, René actually took up the challenge to conquer the mountain 3 times within 8 hours! A great achievement!
Meanwhile René is inspected by a sports doctor, which was exciting because the results of this test still could spoil his plans. The doctor did not see any objection to participate in Alpe d'HuZes!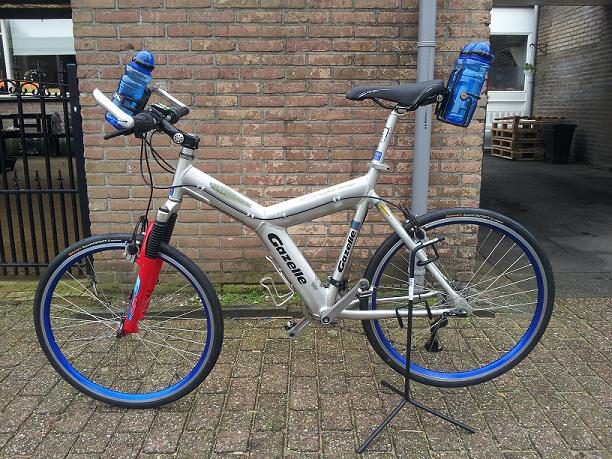 His mountain bike has since been converted from a bike with wide studded tires to a street racer with narrow straps. The bike has new wheel bearings and a new gear cassette and is now ready for the big adventure. Additional bottle holders must ensure that sufficient drinking can be carried for one climb and a bike computer with heart rate monitor must ensure that René climbs with the right speed and heart rhythm.
René: "There are some people dear to me who passed away and they are climbing with me up the mountain". One of the three climbs I dedicate to Michel Martens and I will light a candle for him on the mountain."
A nice picture of how the Alp will look like on the 5th  and 6th of June 2013 ……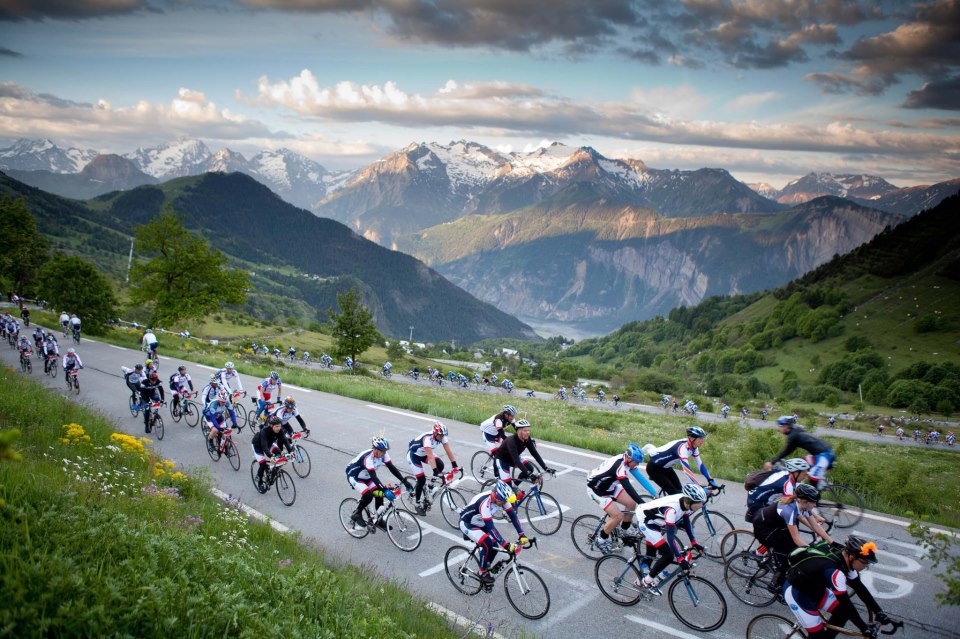 We wish René good luck in this sportive challenge!
And what could go wrong because Apex actually means: "top of the mountain"!
If you want to support René as well, go to his page; Never, ever quit