Back to the overview
Special Applications : Hydro Cruisers
895 km on 1 litre of fuel ! With 1 litre of fuel from Groningen (the Netherlands) to Munich (Germany), that is the challenge for the participants in the Shell Eco-marathon. How is that possible?
The cars in which the teams are driving are not allowed on the public roads. They are small and can carry only 1 person. The maximum speed of this vehicle is only 30km per hour.
To save energy, these cars are designed with special attention to aerodynamics, power efficiency, weight and a very economic drive style. Taking care of all these elements, the teams achieved amazing results during the test challenges.
Many car drivers would be very satisfied with only a fraction of these results. And it is not only fiction, a lot of these developments and innovations will find it's way in the future to our own cars. Well known universities and colleges are involved in this competition. And besides education, the students learn especially to think in a positive way about durable mobility. Who knows what kind of future solutions we can expect from these clever participants?
The Hydro-cruiser is a team of 16 persons under the Expertise Centre T.I.S. Delft (the Hague College) and has the goal to achieve a NEW record and to become World Champion with the complete new developed Sharky 2.8, a car in the UrbanConcept class. This car will be driven by a hydrogen fuel cell, the record is 848 km on 1 litre of fuel!
The new Sharkey 2.8 has a high efficiency fuel cell motor, geared with an Apex Dynamics AE050-005 gearbox. The project team engineers has chosen the Apex Dynamics gearbox : "the efficiency of the gearbox is with > 97% very good, and in practice it proved to be even better then this specification. With the helical gears, the gearbox is very quiet and gives almost no vibration. And last but not least Apex Dynamics delivered an excellent fitting adapter plate for our – very special – motor." According to the project team.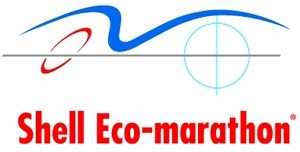 The Shell Eco-Marathon took place from 26 till 28 of May 2011 at the Eurospeedway in Lausitz Germany. And the Hydro-Cruiser team did it again, the became European Champion, a excellent achievement! The Sharkey 2.8 drove 895 km with only 1litre of Euro95 fuel. This is equal to drive from Groningen to Münich on one litre of fuel!
This achievement was so remarkable that even Discovery Channel broadcasted it.