Back to the overview
Newsletter March 2016: WOTS, Clean2Antarctic and timing belts
In about half a year from now the exhibition WoTS 2016 will start in Utrecht. Perhaps a strange opening for the first newsletter of the year, but it has a reason. This year Apex Dynamics BV will have a spectacular presence at the largest Motion & Drive event of the year. We are not going to tell you our plans yet but at least we can tell you that you can win a very nice price every day!
That's just one of the many activities of Apex Dynamics this year to present ourselves in the market. Recently, we have been in Leuven at the Indumation Network Event, a well-organized evening with nice mix of networking, drinks and good food.
Later this year our website will get a whole new look; more modern, easier access but mainly focused on the future as we have notice that accessibility on the Internet is essential to our clients. The number of visitors on our website is ever increasing, especially for mobile devices.
And of course we continue to inform you about our activities via this newsletter. You will find some very interesting topics in this issue again.
Clean2Antarctica
Wilco van Rooijen and Edwin ter Velde are currently preparing an Antarctic expedition that will put these adventurers and the technology utilised under severe pressure. Apex Dynamics are providing the gearboxes for their revolutionary zero waste and zero-energy vehicle. This is a sensational project with many challenges.
Read more >>>
The right timing belt

Apex Dynamics can provide pre-machined pulleys with the PL & PLR series gearheads. We noticed that the choice of the right timing belt is not always easy, there is so much choice and yet it is crucial for an efficient application to choose wisely. Therefore, we have put a together an overview of a number of different belt designs.
Read more >>>
Torque

One of the most important functions of a gearbox is, in addition to lowering the rotation speed of course, the increase of torque. These have a direct relationship, the torque is increased by the delay factor (ratio) and speed reduced. But what is torque? In fact, there are even different types of torques which complicates matters more. In this article we explain the most important torques and their uses.
Read more >>>
Further below in this newsletter you will find a picture of our first advertisement from the new advertising campaign 2016.
This leaves nothing to uncertainty, we show where we feel at home. Would you like to hear why we also feel ourselves at home in your market? Please contact us!
But this question has a simple answer, we feel at home when our customers are satisfied. That can be in many different markets, and we are happy to serve you extra.
/ In other words: we run faster!
Kind regards,
Thom van Oss and Eric Megens
Apex Dynamics BV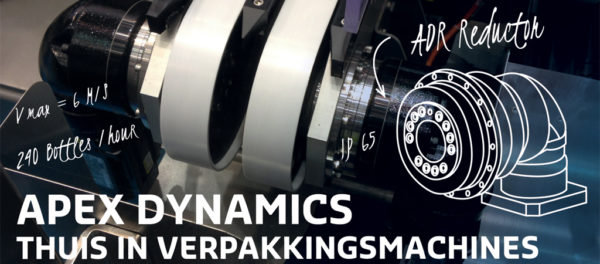 ---
We send our quarterly newsletter, but through social media we share our news much faster. Are you already connected?
If we did not find you yet, please send us a message via Twitter, LinkedIn, Facebook or YouTube, because we would like to follow you!