Back to the overview
After movie: Presentation URE13 and URE's 15th anniversary
During the roll-out day, the complete team was split up into different sub teams to transform the iconic 18 Septemberplein into a one-time race circuit. The transformation of the 18 Septemberplein resulted in the perfect atmosphere to celebrate UREs 15th anniversary. Fans of all ages gathered watching demonstrations of an old combustion car (URE04) and old electric car (URE09).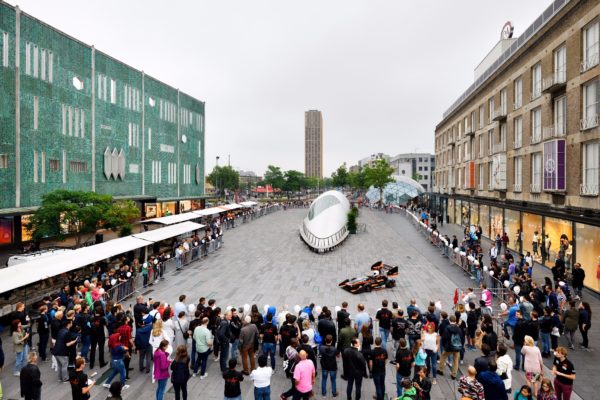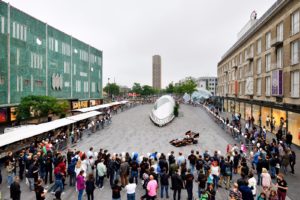 Although there was a little bit of rain, more than 500 people gathered at the 18 Septemberplein to watch the unveiling of the URE13.
At the end of the presentation, the URE13 was unveiled on a spectacular way with music, confetti and smoke. Afterwards, the URE13 showed its capabilities by driving a few laps.
During the roll-out the testing kilometer-count again increased with a few kilometers, almost reaching a total amount of 250km. After a spectacular demonstration, the team and the partners had a great after party at the Student Hotel.
Team URE would like to thank all partners and team members for all of their hard work which have made this possible!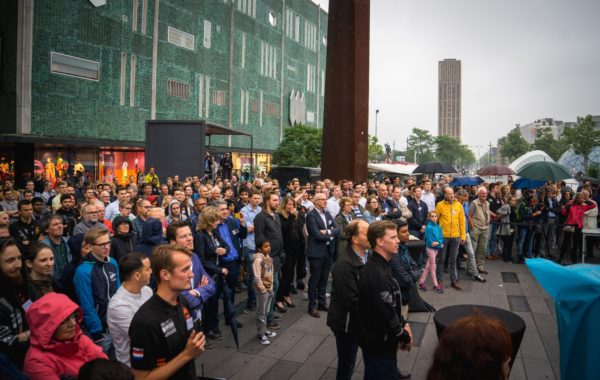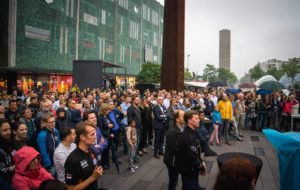 The upcoming weeks will be filled with more testing days to optimize our mechanical setup, control algorithms and make the car ready for the racing season! First stop is the Formula Student pre-event Evo Days in Belgium whereby the car is able to go through full scrutineering, engineering design, business presentation, autocross and endurance to be fully prepared for the first race: Formula Student Netherlands on the 9th of July at the TT Assen.