Back to the overview
Impressive demonstration by Vansichen Linear Technology
How to move a robot with a load of 2.3 tons tens of meters?
Vansichen Linear Technology was one of the first to work on a linearly moving, heavier loaded robot and recently realized its most impressive set-up so far. The engineers of the Belgian company succeeded in placing the most powerful FANUC articulated robot on a modular track and displaying it operationally. Apex Dynamics supplied two powerful AFR180 gearboxes for this beautiful application.
Vansichen Linear Technology

Maxime Vansichen's success story began when a customer told him about his ambitious plans to mount robots on the ceiling and make them move linearly. Vansichen Linear Technology decided to take the challange into the implementation and designed a structure which allows this. The project did put Vansichen on the map as the company that increases the range of robots in almost all circumstances. In the meantime, robot manufacturers and their integrators are finding their way to Vansichen Linear Technology for applications that steps outside their standard range. Vansichen Linear Technology has developed a catalog for the entire range of FANUC robots for standard applications. They do not have their own tracks in their portfolio.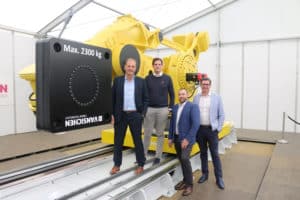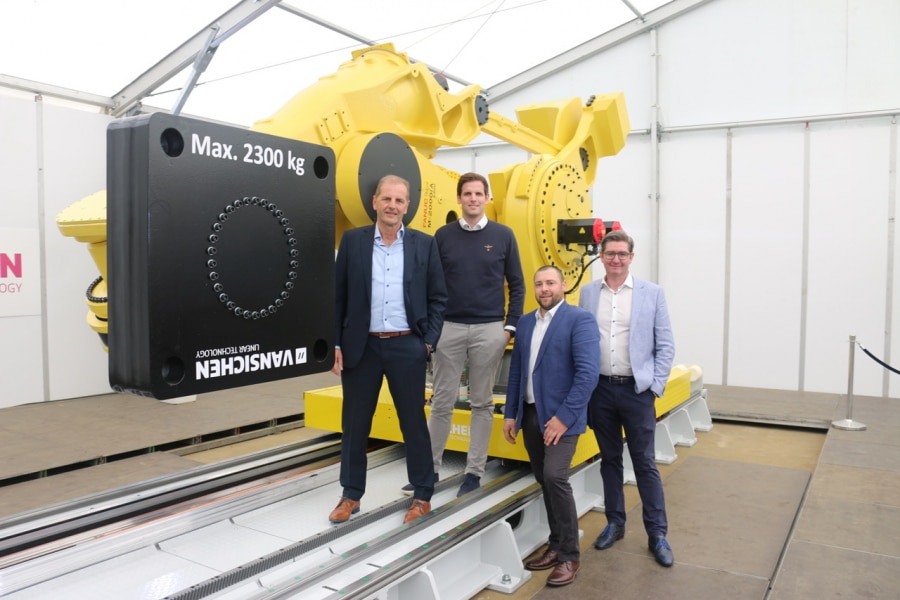 Vansichen Linear Technology was founded in 1993 by current Managing Director Maxime Vansichen as Vansichen BVBA. Originally they started to represent a number of German brands with linear technology on a commission basis in Belgium and Luxembourg. More than a quarter of a century later, the company Vansichen Linear Technology BV has designed its own products as an extension to the range of high-quality brands that they distribute.
In 2005, the company also started designing the first seventh axis. This grew into a broad standard package and sophisticated customization of robot tracks. Vansichen Linear Technology is a real family business with 2 generations active. Today, the company based in Hasselt (Limburg) has more than 20 employees and is very broad in linear technology. The engineers can handle any challenge, supported by the expertise of their regular suppliers.
FANUC Articulated robot : M-2000iA /2300
In May '19, Vansichen Linear Technology presented the latest new development; a demo track (FT65) with the largest FANUC articulated robot: the M-2000iA / 2300. This impressive robot with a load capacity of 2.3 tons is presented for the first time in the BeNeLux, and it is being positioned on the Vansichen tracks. 'Products with a weight of approximately 2 tons often have dimensions where the standard range of the robot is insufficient. The demonstrated track is 12 meters long. But in theory, those tracks can be built up to 100 meters in length, "says Maxime Vansichen, Managing Director of Vansichen Linear Technology. The tracks normally consist of parts of a maximum of 12 meters each, but due to the great weight of the FT65, these have become pieces of 6 meters that can be easily attached to each other. '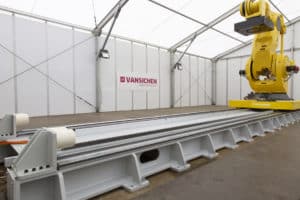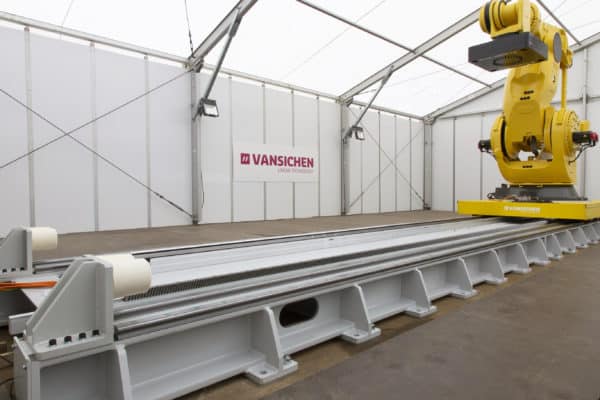 With over 100 models, FANUC offers the widest range of robots in the world. FANUC articulated robots cover a wide selection of different applications and industries, are easy to operate and deliver complete flexibility thanks to a range of application-specific options, easy integration, payload up to 2.3 t and maximum ranges of 3.7 m.
The demonstration was set up at Pollers machine factory, which took care of the production of the frame. For 75 years Pollers has specialized in supplying mechanical parts, semi-finished products and complete machines or installations.
They take care of the entire process, from basic material to in-house assembly. There is a unique collaboration between Vansichen and Pollers: A characteristic of robot tracks is that they are usually long, lengths of more than 10 meters are no exception. Pollers is specialized in the precise machining of long parts. For example, there is a welding table for parts up to 14 meters in length and milling can be performed on various milling tables, the largest has a range of 13 meters!
Dual drive and gearbox for length displacement
For this FT65 track, Apex Dynamics supplied 2 strong AFR180 gearboxes for longitudinal displacement. A double drive was chosen for higher accuracy because there are no more powerful Fanuc servomotors available. The gearboxes can each perform a torque of 1,980 Nm with a feeding power of 18,000 N.
It is very impressive to see the entire installation and it shows the technical ability in 2019: The 11,000 kg robot effortlessly positions a load of 2,300 kg and the track positions the robot to an accuracy of 0.1 mm at a speed of 1 m/s, while the robot can continue to work at 100% capacity while moving on the track. And this, of course, can happen 24/7! The exhibition of this demo has been a success and puts Vansichen on the international map as a system provider.
For more information :
www.vansichen.be
www.pollers.be
www.fanuc.eu