Back to the overview
The art of movement
Apex Dynamics rotates an 11 meters high, 39 ton weighing piece of artwork.
Franz Kafka (3 July 1883 – 3 June 1924) was a German-language writer of novels and short stories who is widely regarded as one of the major figures of 20th-century literature. His work, which fuses elements of realism and fiction, typically features isolated protagonists faced by bizarre or surrealistic predicaments and incomprehensible social-bureaucratic powers, and has been interpreted as exploring themes of alienation, existential anxiety, guilt, and absurdity. His best known works include "Die Verwandlung" ("The Metamorphosis"), Der Process (The Trial), and Das Schloss (The Castle). The term Kafkaesque has entered the English language to describe situations like those in his writing.
Kafka was born into a middle-class, German-speaking family in Prague, the capital of the Kingdom of Bohemia, then part of the Austro-Hungarian Empire. He trained as a lawyer, and after completing his legal education he was employed with an insurance company, forcing him to relegate writing to his spare time. Over the course of his life, Kafka wrote hundreds of letters to family and close friends, including his father, with whom he had a strained and formal relationship. Franz died in 1924 at the age of 40 from tuberculosis.
David Cerny
To commemorate the roots of Franz Kafka, the Czech artist David Cerny created an eleven-meter-high statue, consisting of moving panels which form the face of the great Czech writer. The special idea behind the sculpture is "Die Verwandlung" ("The Metamorphosis"). Watch the Metamorphosis, wait for the right alignment of the panels and discover Kafka!

Technical challenge
The statue by David Cerný stands at the Quadrio shopping centre in Prague and combines modern art, 21st century technologies and the traditional "golden hands" of Czech craftsmen. Though the sculpture looks simple, it is really a technical challenge:
1500 m2 of mirror finish stainless steel sheets
42 synchronous motors with advanced control system drives the panels
12,500 rivet welds
8,900 hours of labour
11 meters high, 6 meters diameter, weighing 39,000 kg
High efficient, stainless steel gearboxes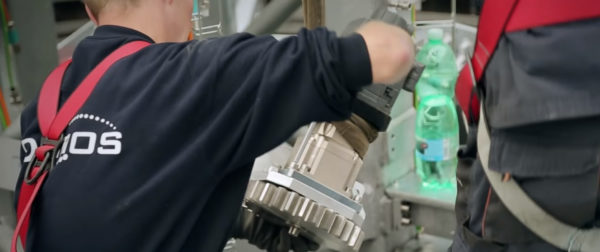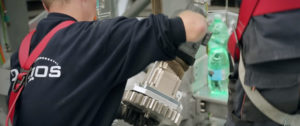 The individual panels are driven by servo-technology and the gearboxes chosen for this project is Apex Dynamics AB115M1-060 for these reasons:
Stainless steel output shaft and housing gives a big advantage in this outdoor application.
Quiet and vibration-free operation due to helical gearing.
High efficiency – low power losses.
High operating temperature range as standard.
Local support and service.
Fast service and delivery time.
Persbericht, Helmond 11 juli 2016