Back to the overview
2020 – WEEK 4, 4 gehad… 0 te gaan!
Well that didn't really go as planned. The main goal was to have a complete robot up and running by the end of week 4.
Week 3 and 4 were a little rough and chaotic. We've never had such an amazing, enthusiastic group of team members who all want to work and participate in the build season. (Usually it was around 20 and this year we're having 35-50 on a team evening)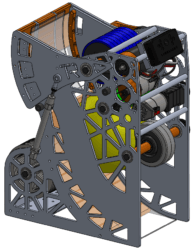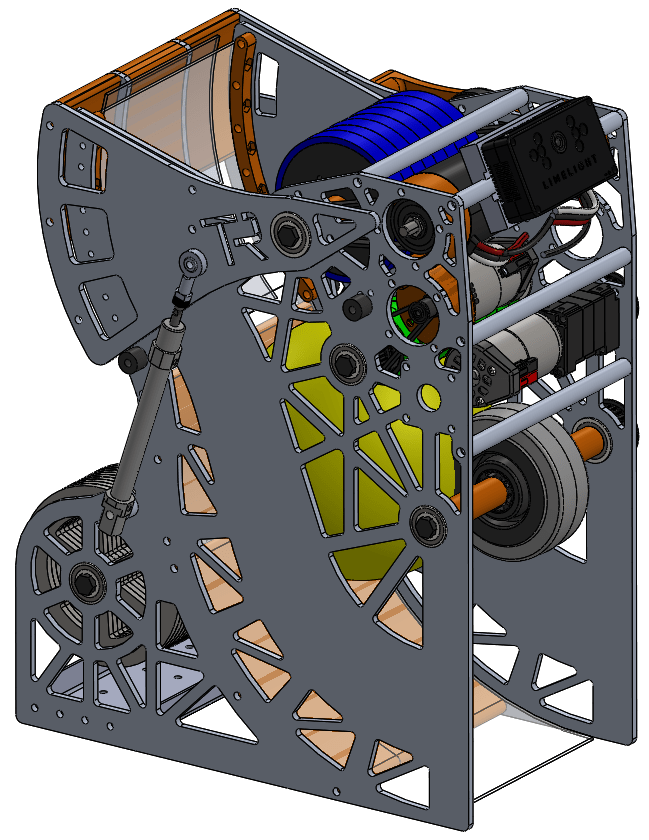 Due to this it was a challenge to keep everyone on board and the same page. For example; people would enter the shop, start working with a couple members on a prototype, send a couple video's on Slack and then leave. (Making decisions along the way that impact software for example and not telling them about it)
So for the next weeks we're going to start every team evening with a quick stand up meeting: every subteam lead will have to give a short update. And after every team evening a quick summary has to be given on Slack to inform all the other subteams on the current progression.
Before I officially start on actual updates… firstly:
Accidental fun with sheetmetal: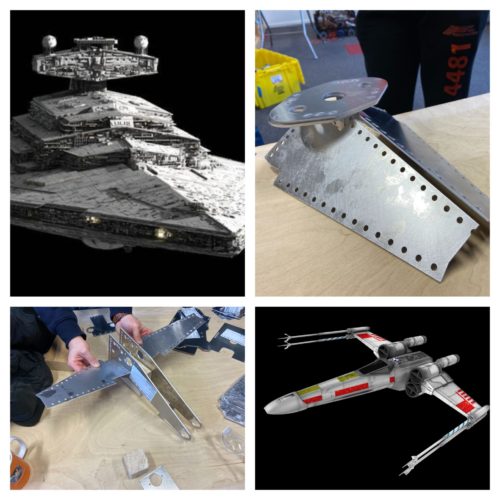 Shooter Update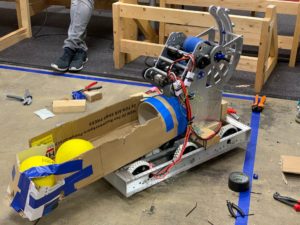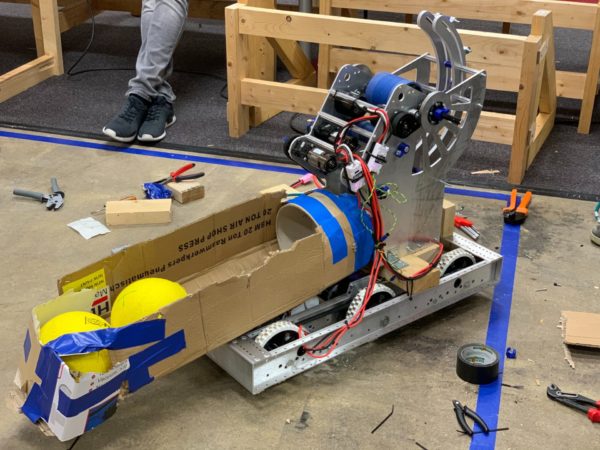 To test the powercell path from the 4″ storage wheel into the kickerdrum and shooter wheel we designed a new prototype revision. This didn't have an external flywheel; we could add mass to the shooteraxle.
Shots were a little inconsistent due to being a little to wide internally. I think there was about 5mm, 0.2″ clearance on the inside width. Adding cartboard to make it a little more of a snug fit for the powercell helped centering the powercell better.
Our earlier prototype had a flat hood and this one shot with 2 arcs. We felt that shooter with a flat hood was more reliable than the arcs. So for the upgraded design we went back to flat hood and enclosed sides of the exit.
Climber Update
We've decided that driving on the climbing rung is probably not needed for week 1 but we wanted to proceed on finishing the current proto.
Moving climber horizontal
Moving climber on angle
Climber for now will stick to the 3 stage linear tubes with constant force springs.
3D SOLIDWORKS UPDATE
The CAD team has made good progression after a long extensive CADathon! The main goal was to have the final drivetrain and storage by Sunday evening and the other sub systems done for 90%.
That way the drivetrain and storage can be manufactured on Monday, Tuesday and start assembly on Wednesday. Then the other subsystems had time until Wednesday evening to make sure all subsystems work properly together in CAD and be ready for manufacturing. We'll be sending out the parts on Wednesday evening so we can start assembly on Friday and hopefully have a robot up and running by Saturday afternoon.
Specifications for the subsystems haven't changed much between this update and the last update. So here are just some screenshots of the current status.
Drivetrain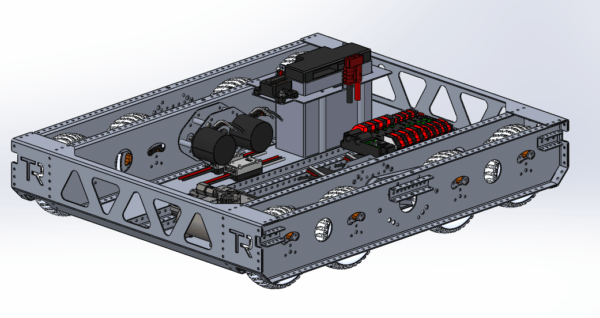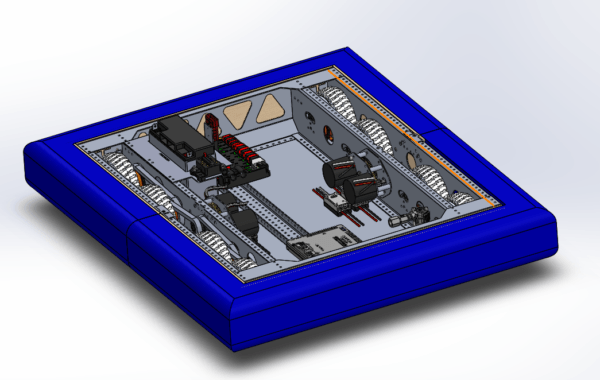 Storage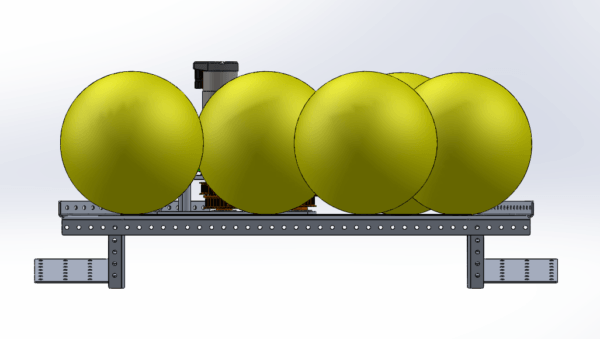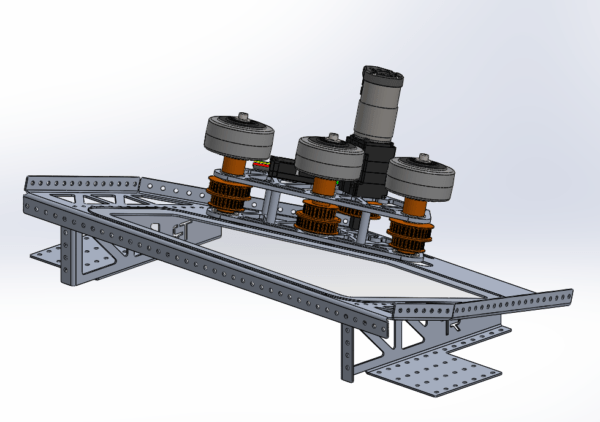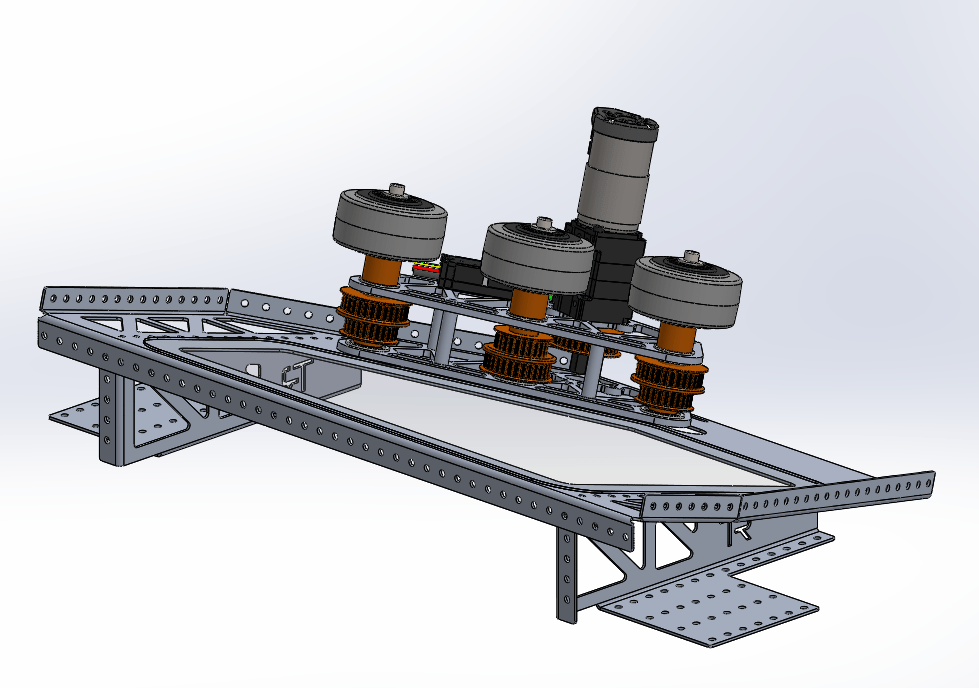 Climber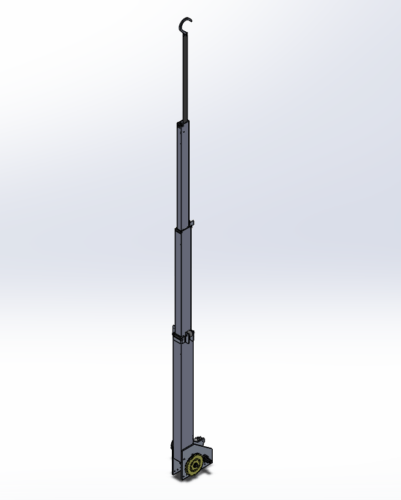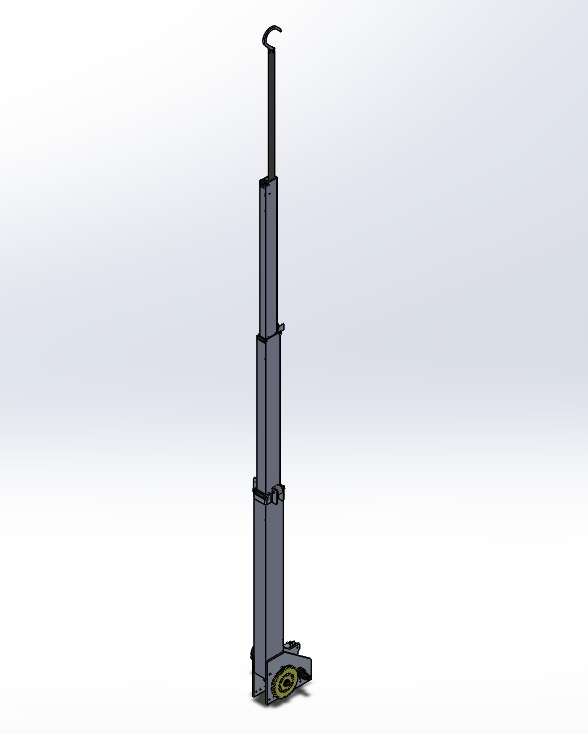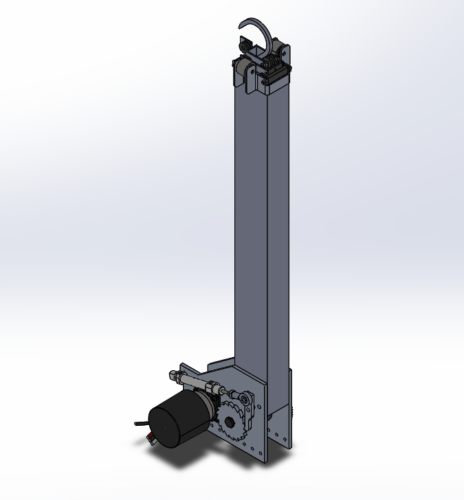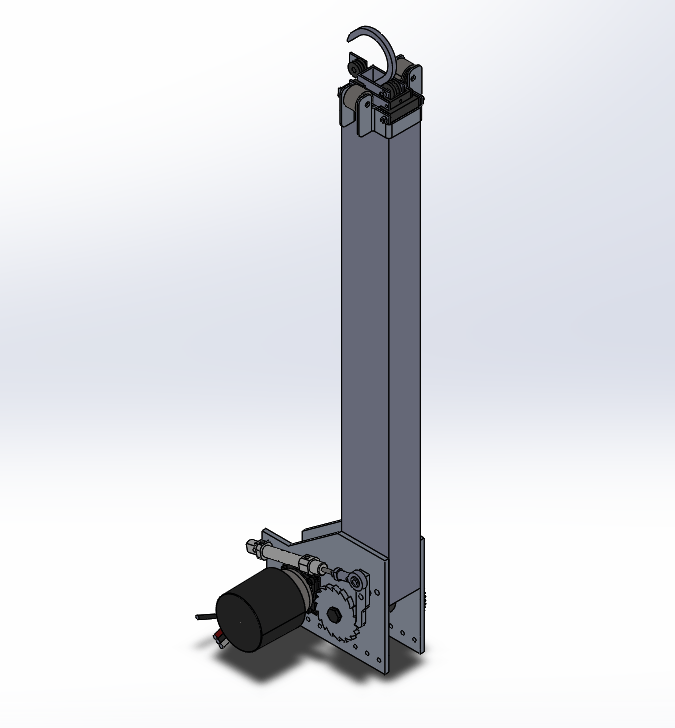 Intake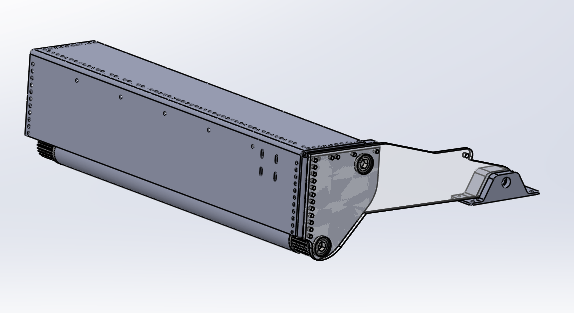 (They've had to wait a little until the storage was finished so they're not as far yet. It will be little less bulky eventually 

 )
Shooter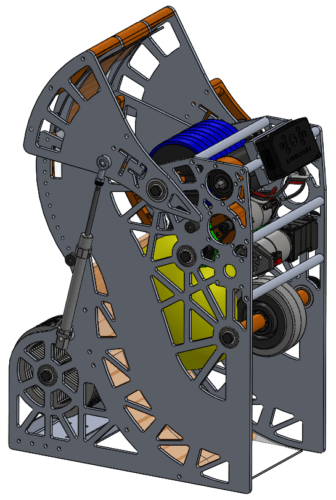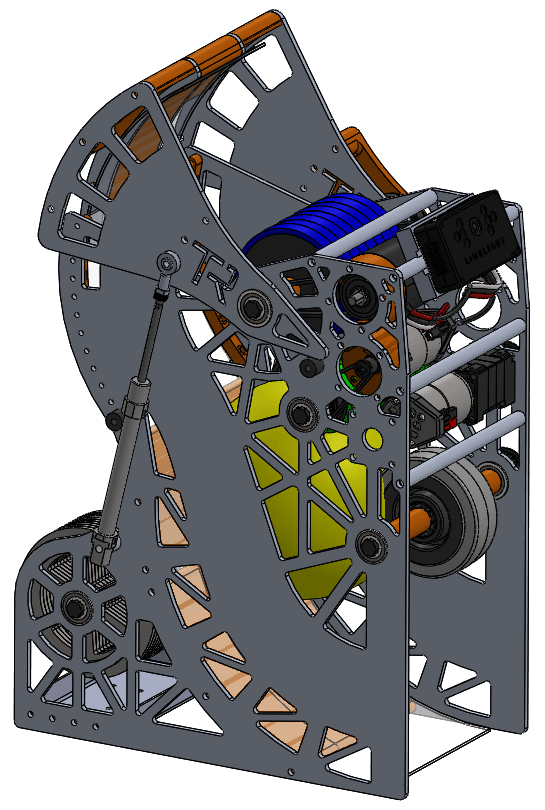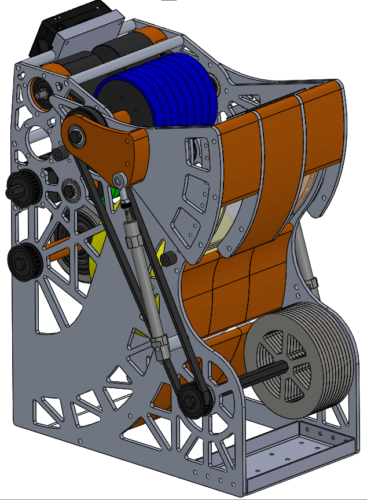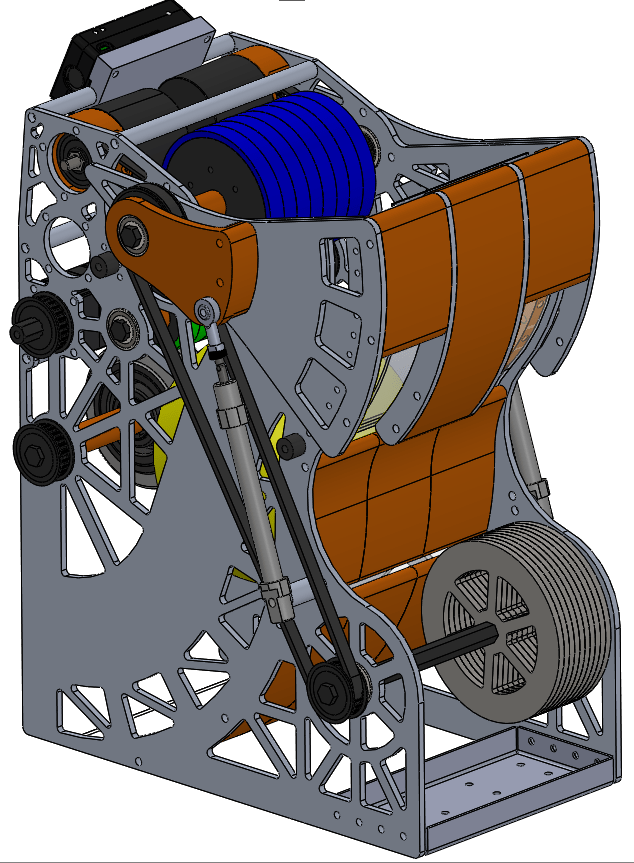 Complete Assembly (Missing Control Panel, Storage walls and Intake currently)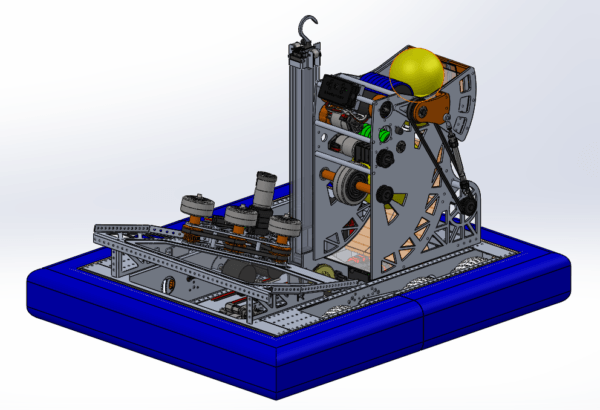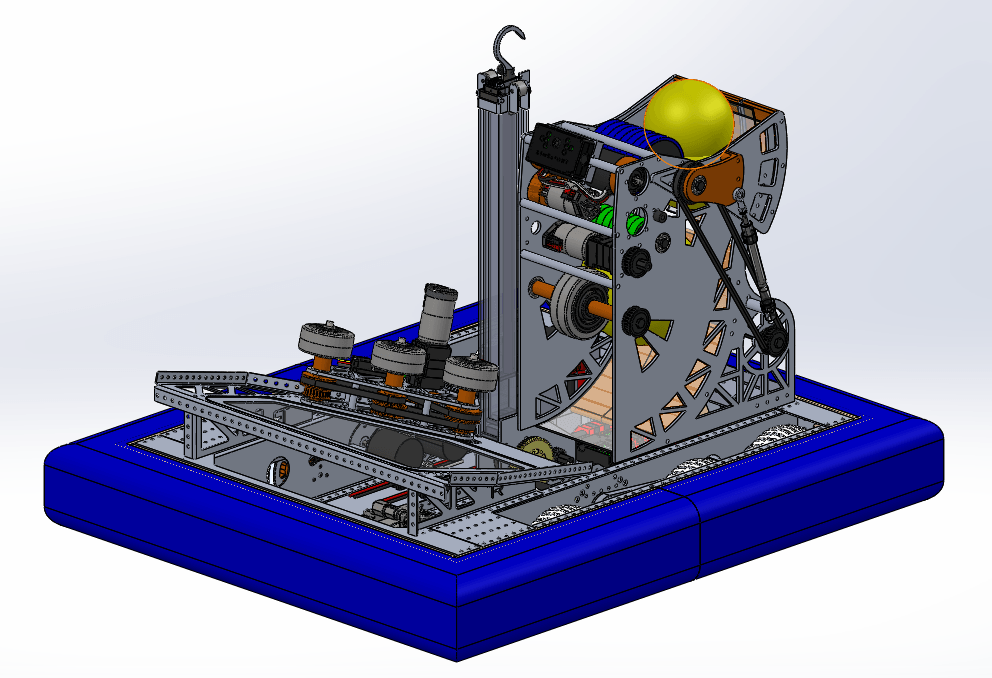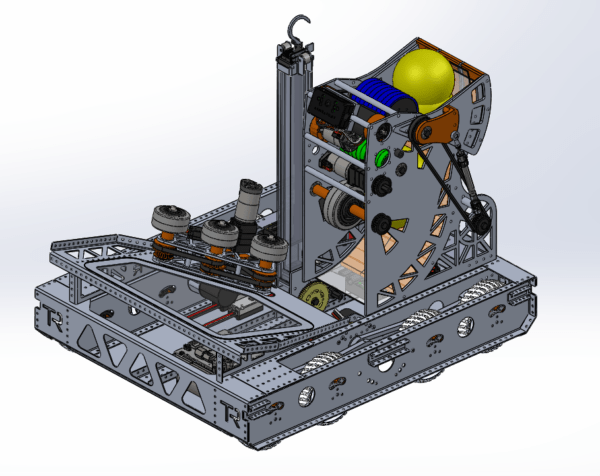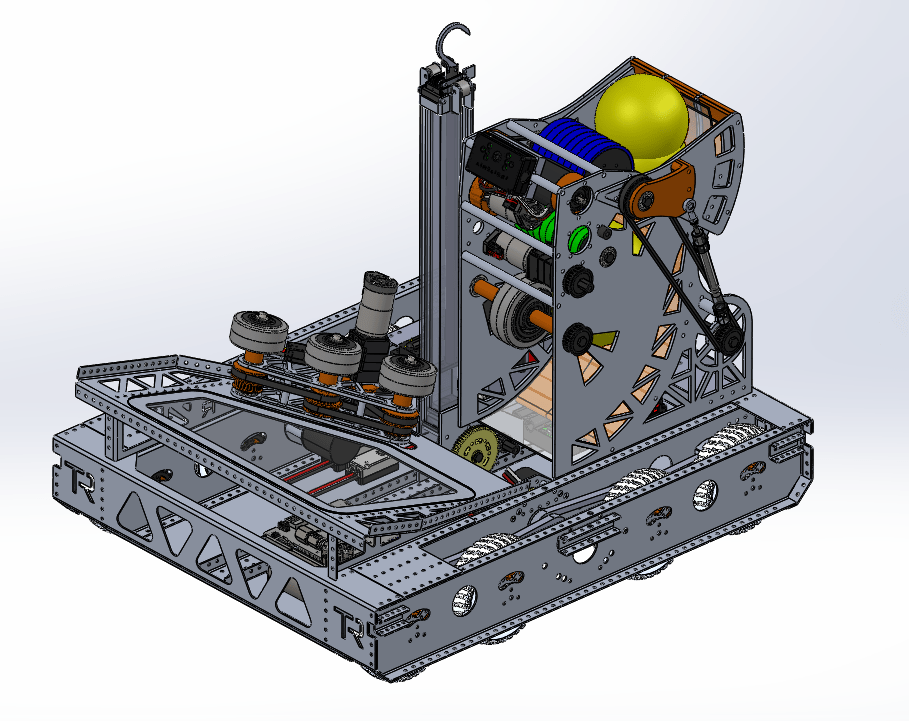 WEEK 5 PLAN
Monday & Tuesday = Production DT and Storage + Finalize CAD from other subsystems
Wednesday = Assembly DT and Storage + Finale check subsystems and start production
Thursday = Production subsystems
Friday & Saturday = Assemble 1 complete robot and DT + Storage for our second robot. Start testing of the complete robot cycle & drive around.
To be continued…