Back to the overview
Apex Dynamics BV sponsor of Team Rembrandts
Rembrandts STEAM Foundation is a Dutch Non-Profit organization that started as the First native Dutch robotics team, also known as Team Rembrandts.
Team Rembrandts, team 4481, is a robotics team located in Eindhoven with students from Fontys University of Applied Science, Zwijsen College and Heerbeeck College. HBO, WO, MBO and High school combined all together.
Apex Dynamics BV started sponsoring Team Rembrandts this year to underline the importance of technical education. It is fantastic to see how students from different educational levels work together! The knowledge of Apex Dynamics of mechanical drive technology is useful here, but it is especially an honor to be able to contribute to the enthusiasm of this group of technical talents.
Rembrandts STEAM Foundation
Rembrandts STEAM's vision:
Getting kids and youngsters enthusiastic about STEAM (Science, Technology, Engineering, Arts & Math) by organizing learning activities and events that not only have a great technical content, but are also appealing and attractive to the target group.
FIRST Robotics Competition
Dean Kamen, Co-Founder of FIRST (For Inspiration and Recognition of Science and Technology) is stating on the website of this Non-Profit organisation: "FIRST is more than robots. The robots are a vehicle for students to learn important life skills. Kids often come in not knowing what to expect – of the program nor of themselves. They leave, even after the first season, with a vision, with confidence. And with a sense that they can create their own future".
Improving knowledge and capabilities that are essential for a future technical professional (like a critical and exploratory attitude, creative and constructive thinking skills, focus to the community and the world around yourself, the importance of significant meaningful solutions and skills to be an effective and pleasant team-player. Helping to improve societies image of Science and Technology.
Showing the cross references between Science and Technology and other domains and that STEAM activities are an essential and indispensable element.
Facilitating and supporting initiatives, both locally, nationally and internationally, that support the vision above.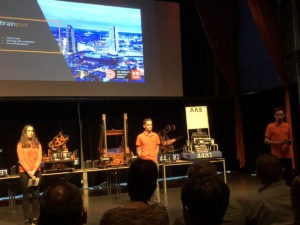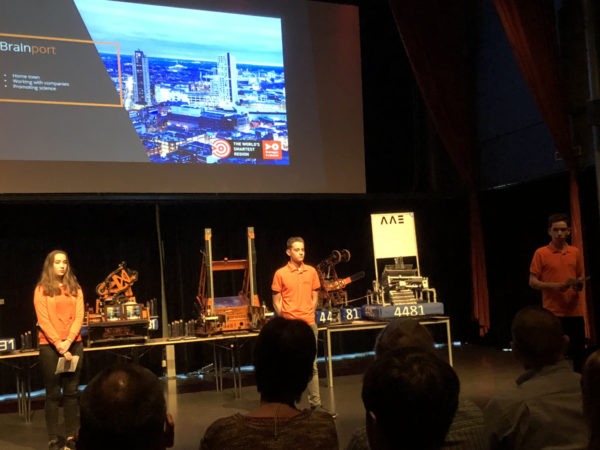 The vision of FIRST is: "To transform our culture by creating a world where science and technology are celebrated and where young people dream of becoming science and technology leaders.".
Kick-Off at 07/01/2018
On Sunday 7 January the kick-off took place of the 2018 participation of Team Rembrandts in the FIRST robot competition. In the Mariendael Cultural Educational Center in Sint-Oedenrode, Team Rembrandts presented itself to family, sponsors and interested parties.
During this kick-off also the challenge for the FIRST robot competition 2018 was presented which the team received a few days before. Below you see a movie with the assignment for 2018.

All participating teams have 6 weeks to develop, build and test a robot that can fulfill the assignment for 2018. This is an unprecedented challenge that is asking a lot from the participating students . They are confident that they will succeed, it has been achieved already 5 times before. So why not this year!
Apex Dynamics BV will follow the team closely on our website and of course social media.
We wish Team Rembrandts a lot of success with this enormous challenge.
Helmond, january 2018